---
Guenevere's Galley
Pressure Cooker Recipes


Chili
---
---
WARNING
PLEASE, make sure you read and understand the safety directions that came with your pressure cooker, BEFORE using it!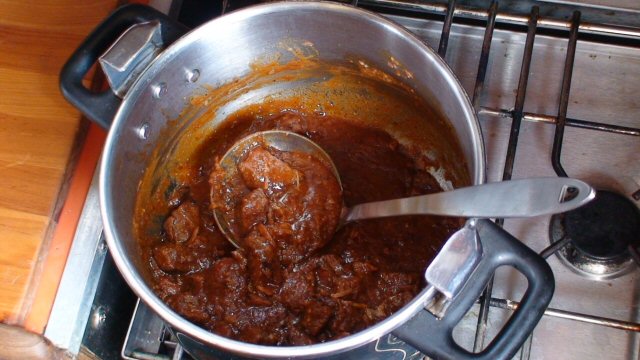 Ingredients:
3# stew meat, beef, pork, or combination of both, cut into chunks
2 tea. Cooking oil
12 oz. Can of beer
2 chipoltle chiles canned in adobo souce, chopped
1 Tbsp. Adobo sauce
1 tea. Chili powder
10 tortilla a chips
salt to taste
16 oz. Jar of salsa
1 Tbsp. Tomato paste
1 tea. Ground cumin
1 disk Mexican chocolate
Directions:

In Mixing bowl, tos meat with oil and salt
In heated pressure cooker, brown meat in several batches.
Brown on all sides. Remove meat. Add beer to cooker and scrape browned bits from bottom of pot.
Add meat back into pressure cooker with salsa, acipotle chilies, adobo sauce, tomato paste, chili powder, cumin, chocolate, and tortilla chips. Stir to combine.

Cover and bring up to pressure. Time 25 minutes over low heat.