---
Guenevere's Galley



Stories



---
---
We have decided to split out our recipes into the groups below. We have found that simply separating them into categories like "Breakfast", "Lunch" and "Dinner" does not work aboard our boat. Especially not during passages! please note, most of the recipes we have made ourself, but some are from other cruising boats we have met along our travels. Where the recipe comes from another boat, we will clearly give them credit. We also want you to know that ALL of the recipes you find on our pages actually work aboard a cruising boat! We will NOT post any recipe that has not been prepared aboard a cruising boat and found to work well in the cruising environment.


Mashed potatoes

We have been sailing for years. Often, it was in cold areas like on a lake in Georgia during the winter and on San Francisco bay most any time of the year when the weather is not nice. On our way down the coast of California, and then the Baja, we kept looking for warm weather! Where was it!!!????

Keeping warm and having good food is not a problem for short day or 2 day runs, but it gets harder for longer voyages.

One morning I was on-watch from before dawn to about 7 AM. Just after dawn, I noticed Jill was up and heating some water for our coffee. Shortly after she came up into the cockpit with a nice hot steaming cup of pure bliss in that dark colored hot liquid. But what came next was even better! A large portion of mashed potatoes! I know this sounds funny for breakfast, but It sure was great! They are hot, filling and fills the belly. I think that on that cold dawn, they were better than oatmeal!

So, we started having them often at the dawn change of watch until we rounded Cabo San Lucas and hit the hot weather. That gave rise to a saying we still use to this day....

Mashed potatoes, NOT just for breakfast anymore!


Things go BAD

We have all heard or used the phrase, "That will last through the next ice age". Well, it just ain't so! Or it just might be that it is SO HOT in the Sea of Cortez, there will not be another ice age?

When we departed the San Francisco Bay area (home of GREAT food!), we took a lot of food stuff with us. We were worried about not being able to find the foods in Mexico we love. We had heard that you can not get peanut butter, and a lot of other items in Mexico. Our cruise was open ended, but, we thought we were well set.

One item that surprised us was some of our packages of instant mashed potatoes. Once we got to the Sea of Cortez, the weather was warm to HOT. So we were not using up our supply. We had brought a few dozen package of 4 serving sized packets of a brand that we both thought were very good. Jill would make fresh mashed and a pack of the brand we liked, and we could not tell the difference.

Then, as the following winter (I use the term loosely in tropical waters) was approaching the temps started to drop.

One cool evening, Jill made some very good beef we had picked up in La Paz and made a packet of instant potatoes from our supply. We opened a nice bottle of red, lit a candle and sat down to a wonderful evening dinner in the cockpit to watch the stunning La Paz sunsets.

At the first taste of the potatoes, we both looked at each other with surprise and SHOCK on our faces! The stuff tasted more like wet concrete, way beyond just simple paste.

Moral of the story, instant mashed potatoes can and do go bad!

Now here is one that I would have bet money would last forever.

In the US we would some times make a dip by simply dumping some

Velveeta

cheese and a jar of salsa together and heating it a bit. So, we had put about 4 loafs of Velveeta in our storage aboard. It was low in the boat to keep it in as cool a place as we could fine.





Did I mention how HOT it gets in the Sea of Cortez during the summer? Well, IT DOES!





One evening, we decided to watch a DVD on our player and I was going to treat Jill to some chips and dip. I had purchased some GREAT fresh salsa in town. I dug into our long term stores and got out one loaf of the Velveeta to use part of (thinking I could use more fwith some eggs the next day). When I opened the foil (still in tact and looking perfect on the outside) what came out looked like a DARK brown brick! It had about the feel of a regular, but looked and smelled VERY BAD! No cheese with the chips that night.





Moral of the story, Velveeta cheese can and does go bad!



When we departed, we knew we wanted to take a lot of different spices with us. We also knew that they do not last all that long, at least not in our house. So we stocked up. We went to Costco and a few other big stores. We decided to pick up the big bottles, about a quart size each. BAD move! It seems to us that the bigger the bottle, the faster the stuff goes bad. Also, one of the big bottles was "Taco spice". BOY was that stupid! The proverbial taking a ham sandwich to a banquet. After 2 years aboard, even down low in the boat, all of our spice was going bad. Some was still usable, but not nearly as good as when it was new. The tropics works it's heat into every place.



Did I mention how HOT it gets in the Sea of Cortez during the summer?

Well, IT DOES!

And even the water temp below the boat is in the 90s!!



Discovery

When we went cruising, we were not running away from anything, indeed, we were running toward the discovery of new things. Our thirst for discovery extends not only visiting and seeing new places, it extends to the people AND FOOD of the area. To get to know the people, eating the same food makes a big difference.

I have to say that most people would consider both of us adventures eaters. Are you? If not, you are going to lose a big aspect of cruising enjoyment.

Not long after we arrived in Ensenada Mexico, they were having Carnavel. Although we wanted to get south to warmer weather, we HAD to stay for the festivities! We were NOT disappointed. During the Carnavel we noticed how different it was from carnivals, fairs and the like are in the USA. The big changes were in the food booths. We still found a lot of the normal stuff like cotton candy and hot dogs. We also found a LOT of fresh fruit and the like. It was a much healthier supply of fast foods than can be seen at the like places in the the US.

As I was walking down one of the streets, I came across a small stand with some type of meat that I had never seen before. It was a big chunk of layered meat with a pineapple on the top and bottom on a vertical spit in front of a heater element. Sort of like a Gyros setup, but a different meat. They were making tacos with it. There was a sign that said Tacos for 3 Pesos (a bit under US$0.30). Hey, I'll try it.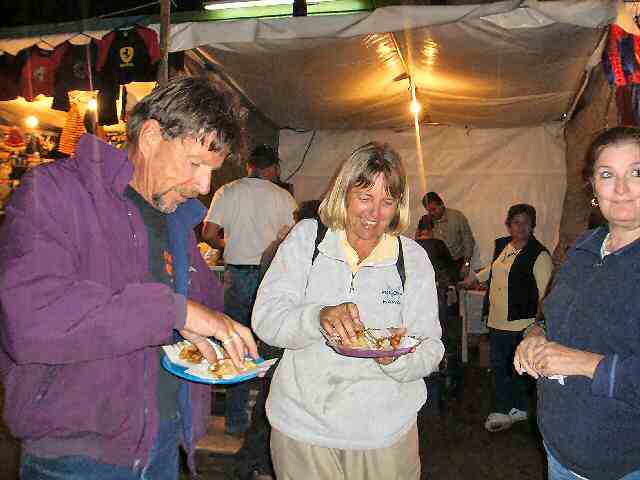 It turned out to be something called "Pastor", a marinated pork. I tried one and LOVED it! There was also a lady, about my mothers age, there as the stand owner. We BOTH had fun teasing each other for a few hours. She had a BIG meat cleaver and would jokingly threaten me if I didn't eat more, and then laugh like crazy! It was SO MUCH fun for all of us. And oh, by the way, she spoke no English and I spoke no Spanish at the time! It became a social event as another customer showed us what condiments to add to the tacos.

To this day, Pastor has been one of my favorite foods in Mexico! And I never eat it without thinking of our new friends.



Another very pleasant food related surprise was something we were told about by other cruisers, and then tried for ourself.

As we traveled up into the Sea of Cortes on the Baja side, we stopped in a small town called Santa Roselia. At one time it was a BIG mining center and had a large French contingency there. We were looking forward to some good French bread. The French left years ago and they don't make French Bread any longer. We didn't get the French Bread, but what we did get was one of the BEST hot dogs we have ever eaten in our life!

You have to understand, Jill DOES NOT EAT HOT DOGS. So, only Greg was looking forward to this particular treat. The treat we were told about was a bacon wrapped hot dog. We were told that they are normally available all over Mexico, but these in Santa Roselia were the best.

They come from a stand that is by the church designed by Carl Eiffel. We walked to the area it was supposed to be, but nothing was there. We checked all corners near the church. When we asked, we were told that they don't set up until 7 PM. So, we walked around and did a bit of sight seeing. About 7:30 PM we made it back to the corner. It was jammed with people! Both local and other cruisers. I got up to the front of the line and ordered 1. That way if it was not as good as we were told, we had not expended much.

One taste and WOW!!! IT WAS GREAT. After a bit of coaxing, I managed to get Jill to take a small taste. What took place next lives in the annals of our marriage, I was ORDERED to get back in line and order 2 more for HER!! I managed to eat 4 myself. We went back many, many times! The dogs are SO GOOD, we did a YouTube video of them. You can see it by clicking HERE.





We have had many other food treats

along our travels.




We urge others to

work up the courage to try things out

of your comfort zone.




Your courage will
be well rewarded!