Chilaquiles
This is one of our Favorite recipes of all time!
It will help with the frying if your tortillas are a little dry. If they are fresh, cut them first, put them in a warm oven for a few minutes first to dry them out a bit, then proceed. We love them topped with a fried egg.

Ingredients
1 dozen corn tortillas, preferably stale, or left out overnight to dry out a bit, quartered or cut into 6 wedges
Corn oil
Salt
1 1/2 to 2 cups red chile sauce or salsa verde*
1 cup (or so) shredded white cheese that melts well
Fry cut tortillas in corn oil. When crisp, drain on paper towel and salt. This provides the base. Top with red or green sauce (below) cheese, and garnishes.
Cotija cheese or queso fresco
Crema Mexicana or creme fraiche
Cilantro, chopped
Chopped red onion
Avocado, sliced or roughly chopped
*
Red chili sauce
Take 4 dried ancho chiles, remove seeds, stems, and veins. Heat chiles lightly on a skillet on medium heat to draw out their flavor. Put chilies in a saucepan, pour boiling hot water over to cover. Let sit for 15 minutes. Add chiles, 2 garlic cloves, 1/2 teaspoon of salt, 1 1/2 cups of chili soaking liquid to a blender. Hold down lid of blender tightly while blending, blend until completely puréed. Strain through a mesh sieve into a frying pan to make the chilaquiles.
*
Salsa verde
Put 1 lb tomatillos, husks removed, into a saucepan, cover with water by an inch. Add 1 jalapeno, stems and seeds removed. Add 2 cloves garlic. Bring to a boil. Cook for 5 minutes until tomatillos have changed color and are cooked through. Use slotted spoon to remove tomatillos, jalapeno and garlic to a blender. Add a cup of the cooking liquid. Blend until completely puréed. Add salt to taste.


This recipe requires no yeast and therefore goes together pretty quickly.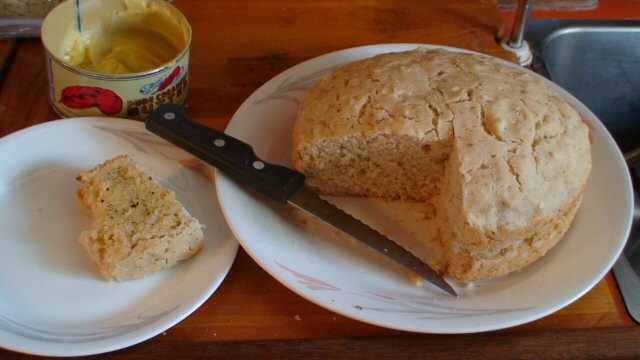 Ingredients

3 C. flour
1 Tbsp. Baking powder
103 Tbsp. Sugar
1 tea. Salt
1 12-oz beer, room temperature
¼ C. unsalted butter, melted

Combine dry ingredients. Add beer, mixing just until blended. Batter will be lumpy. Brush with butter. Bake at 375 Deg. 35-40 min.

These round unleavened breads cook right on the stove top in a skillet.
Makes 12 chapatis

Ingredients

1 1/2 C. whole wheat flour
2/3 C. dried cranberries, chopped
1 1/2 tsp. vegetable oil
1/2 tsp. sea salt (I used regular salt)
1/2 to 3/4 C. cool water

In a medium mixing bowl, combine flour and dried cranberries. Mix in oil, salt, and just enough water to form a soft dough.
On a lightly floured surface, knead dough for 5 minutes. Cover with a damp cloth (I used Saran Wrap) and allow to rest for 5 minutes to 12 hours (I waited 30 minutes).
Knead dough again for 2-3 minutes and divide into 12 pieces. Roll each piece into a 6" round.
In a dry skillet over medium heat, cook each chapati until lightly flecked with brown, 1 minute per side.

From Lee on board S/V Affroessa

Ingredients


1 C. peanut butter
1 Tbsp. Soy sauce
1 Tbsp Lemon juice
1 tsp. Honey
¼ tsp. Garlic Powder
½ Tbsp. Hoisin Sauce
½ tsp. Hot sauce, or to taste

Blend well. Add a little water if too thick. This can be used as a dip or thinned out can be a sauce over cooked vegetables.
Ingredients

3 tbsp black bean sauce
1 tsp hot chili garlic sauce
2 ½ tbsp honey
2 tsp dark soy
2 tsp ketchup
Mix together the black bean sauce with the hot chili garlic sauce and honey. Stir together thoroughly. For this recipe I used Asian Gourmet Authentic Black Bean Sauce, however, you can use any black bean sauce that you choose.
Then add the soy and slowly stir mixing it in completely. Then add the ketchup and the sauce is ready to use. Store it in the refrigerator in a container with a tight fitting lid.
Makes 1/3 of a cup. This recipe may be doubled to make extra sauce.
No Fridge Required Rice Salad


Ingredients

1 C. Brown rice
1 Cinnamon stick
½ tsp. Turmeric
½ C. Peas
1 head Califlower, cut bite size
1 tsp. Whole cumin seeds
1 Tbsp. Vegetable oil
1 Tbsp. Mango chutney
1 Tbsp Cider vinegar
1 Tbsp Lime juice
pinch of dry mustard
salt
¼ C. Raisins
¼ C. Chopped cashews
2 Tbsp. Chopped cilantro

Combine rice with 2 1/4/c. Water, cinnamon stick, and turmeric. Simmer, covered 35-40 minutes. Add peas.
Toss cauliflower with oil, salt, and cumin. Roast at 450 deg. 15-20 minutes. Mix oil, chutney, vinegar, lime juice, and mustard and pour over rice.
2 cups sugar
1 cup distilled white vinegar
6 cups mangoes (4 to 5), peeled and cut in 3/4-inch pieces
1 medium onion, chopped (about 1 cup)
1/2 cup golden raisins
1/4 cup crystallized ginger, finely chopped
1 garlic clove, minced
1 teaspoon mustard seeds, whole
1/4 teaspoon red chili pepper flakes (hot)
1 Combine sugar and vinegar in a 6 quart pot; bring to a boil, stirring until sugar dissolves.

2 Add remaining ingredients and simmer, uncovered, until syrupy and slightly thickened, 45 minutes to 1 hour. Stir occasionally during cooking.
3 Pour into clean, hot jars leaving 1/2-inch head space; close jars. Process in a water bath 15 minutes.
Makes 6 (1/2 pint) jars

Ingredients
Jar or can of Salsa
fish fillets

Heat salsa in a frying pan, drop in the fish fillets and simmer till done.