These are photos of Aaron's early years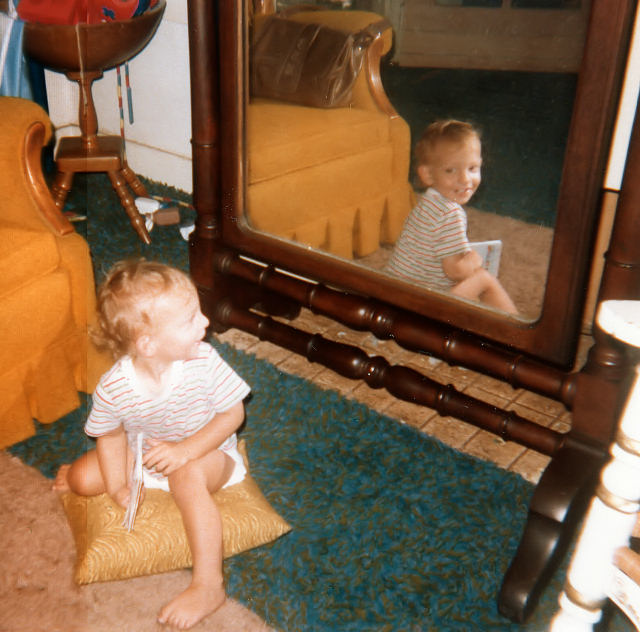 Aaron was a happy baby!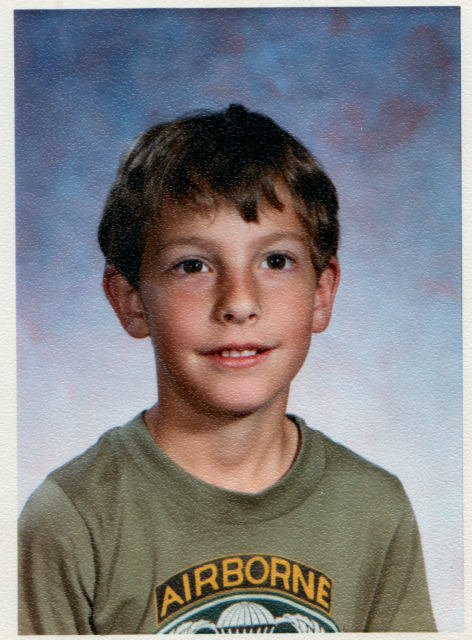 Aaron always knew he wanted to be in the Army.
We had many adventures. We did white water rafting and slow water rafing together.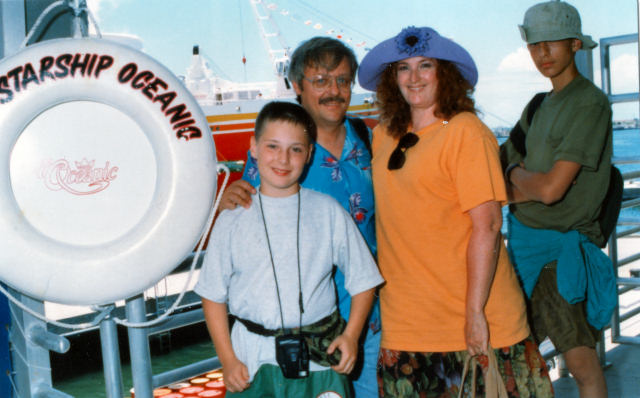 We all took a Disney cruise.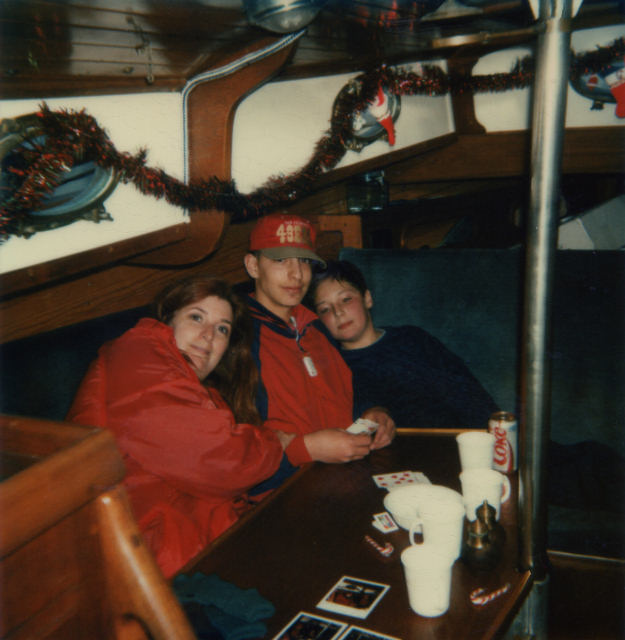 We spent the Christmas holidays aboard Guenevere a number of times.
These are photos of Aaron during a visit to Mexico

Aaron and Ralph brings sea shells to mom during a sail out to Caleta Lobos.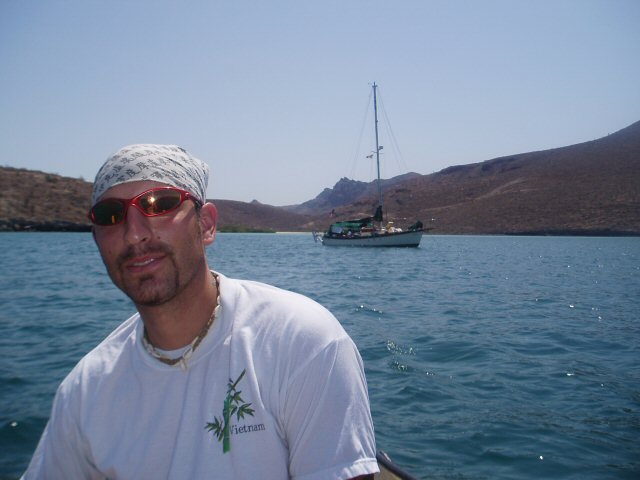 Aaron on a dink trip around the anchorage.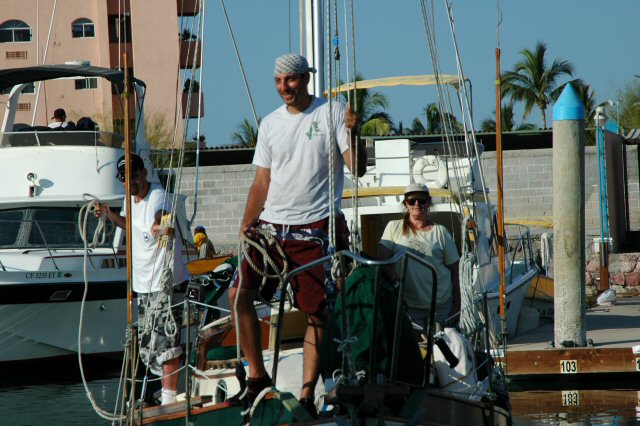 Aaron handles the bow lines as we dock at Marina de La Paz, Mexico.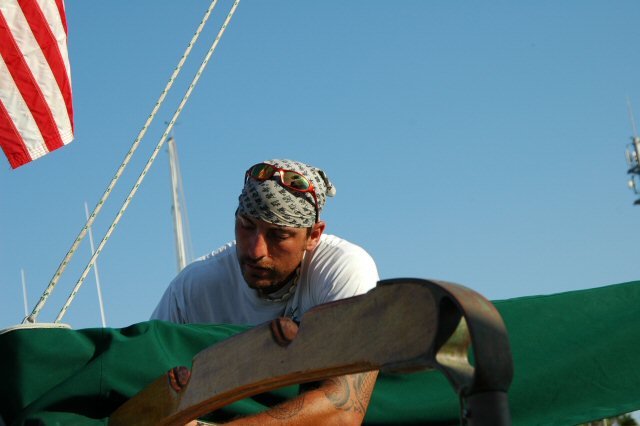 Aaron stows the main sail after we dock in Marina de La Paz.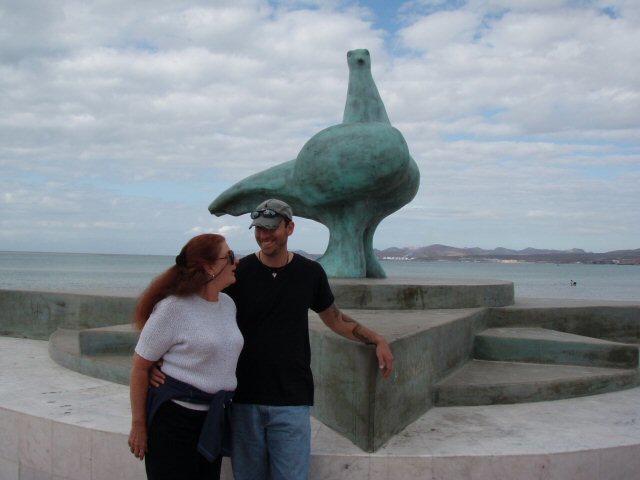 Aaron and mom (Jill) at the dove in La Paz Mexico.
These are Videos of Aaron growing up

The videos you see below are snippets of time that we were lucky enough to spend with Aaron. As we lived and traveled together as a family, I tried to take movies/videos as much as I could. Often, Aaron would be camera shy, but I gave it my best effort. I just wish I had been more insistent. As you watch these examples of our life, I hope you can see how vibrant and alive Aaron was, and how much he meant to us.
In July of 1990, we took the kids (Aaron, Brandon and Kevin) to Medieval Times





In July of 1990, we took the kids (Aaron, Brandon and Kevin) to Medieval Times for dinner. Needles to say, we had a GREAT time! This place is wonderful. This show was a great deal considering the cost and the length of the show. And the food was very good also! I am not sure who enjoyed it more, the kids or us. The Green Knight (our knight) was knocked out early in the show, before the call of to the death. But came back in disguise to win all.

In 1991 we took a vacation to my mothers house in Michigan

In December of 1991, we, Jill, Aaron, Brandon and myself Greg took a trip to visit my grandfather, mother and brother in Weidman Michigan. We had a good time doing a lot of things and visiting.

4th of July wedding with our boys




Jill and I were married on the 4th of July in 1992. I can ALWAYS remember our anniversary! We had a VERY informal ceremony in our home. We invited everyone over for a 4th of July Bar-B-Q. Half way through the day, the minister showed up and we (Jill and I) changed into a bit better clothes than shorts and Ts. Aaron was Jill's ring barer and Brandon was mine. It was great fun for all and one heck of a good Bar-B-Q.




In 1992, we did a Guys camp out. Aaron, Brandon and I went for the trip. Jill did join us after a couple of days. We had a good time fishing, swimming and hiking. We were at Redtop. The place was full of deer and we saw them often. It's a GREAT way to get closer to your kids.

In 1993 I needed a way to get the boys school grades up

How do you motivate your kids to get good grades in school? You CAN try money or things, but that may be giving them the wrong message in life. Our boys grades were slipping a bit, so I made a deal with them. For every A they got on the final report card, they could hit me in the face with a cream pie. OOOhhhhhhh but wait, a life lesson is also that most things go 2 ways. The deal also included that for every grade of C or below, I got to hit them! IT WORKED VERY WELL! Here is the video of it in 1993. Our good friends Mike, Julie, Kevin and Kelsey were there and just had to jump into the fun!

In 1993 we took a Bahamas cruise on the Disney Big Red Boat





In 1993, we all took a 4 day cruise on the Disney Big Red Boat. We had such a great time I missed taking more video!





For more videos of our family activities and other videos that have Aaron in them, visit our YouTube area at: http://www.youtube.com/user/MrGregDell or click ..... here.
hese ar photos of