That's us in the cockpit.

Jerry Powlas took this photo at the Northern Cal. Nor'Sea get together, during the photo shoot for the Nov/Dec 02 Issue of Good Old Boat.

Guenevere's Adventures

Cruising Pages


---

---





September, 08
If you read our position report "Position Report and Family Crisis, September 2008" you will see that our plans have taken a drastic turn.
So, until some time in the future, we have no plans.




January, 2007


NEW, new plans.... Ahhhh, they are always changing out here.
I know it seems like we have been in the Sea of Cortez for a long time. BUT, then again, isn't that what "cruising" is all about? The ability to go, OR STAY, as we please. For us, cruising is not about moving from place to place so we can say we "saw it". Cruising, for us is being able to say that we know a place. So, one last summer in the Sea of Cortez, all the way to Bahia de Los Angeles (BLA). Then, back here to La Paz to do some small boat updating, then on to the mainland of Mexico. We plan to stay for about a year over there (in Mexico) before moving down to Central America.

We are just having a GREAT TIME OUT HERE!



August 15, 2006
NEW plans! Once more we had a good time in the Sea of Cortez. But we did not make it to Loreto fest, or all the way up to Bahia de Los Angeles. So…. We are planning one more summer in the Sea. We plan to leave earlier out of La Paz and head up and stay longer. We will stay here in La Paz for the holidays, make a couple of trips, then head up. After that we are thinking that we will cross over to Mazatlan and spend next years hurricane season there in Marina Mazatlan. We can do a lot of inland trips from there.

Let's see if these plans hold up any better than our last plans?


November 10, 2005
WOW, Do plans change! And it seems that our plans are about as firm as the water under our keel. As of now we are going back to the USA for a few months to visit family and friends. We are taking a train, with sleeper car across the US, from LA to Michigan. Guenevere will stay in Marina de La Paz and wait for us to return in mid January of 2006. We think we will then attend the Bay Fest here in La Paz in April, then Loreto Fest in May, then up into the sea for a few months more. It is just too nice up there!! We then plan to work our way south and west.



October 15, 2004...
OK, so plans change! We are having such a good time that we may take longer than expected to get down into Mexico!

OLD Plan below...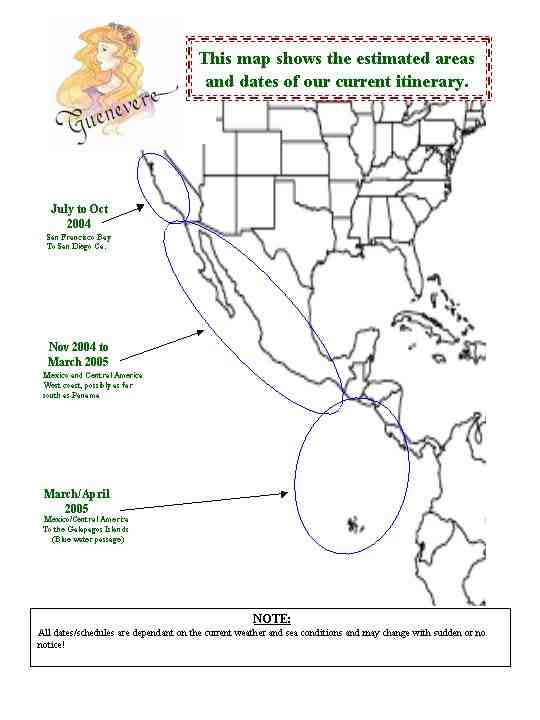 There are currently three ways to see where we are at, or at least where we were when we last sent any email by our radio using the Airmail program.

One way is to





Click Here


to see our position using the ShipTrack system.



WARNING with over 700 points to


plot, it may take some time.
Also, the system only plots our positions back to 2006,.




Another is to





Click Here


to see our position using the

DeLORME

system.

We recently started useing a DeLORME InReach that allows 2 way texting. It also allows us to set it to automatically send a GPS location by satellite link that shows up on a map.
The best way to track us is by email.


From time to time, we will send an email (a Position Report) to a group address. By following the instructions below, you will be able to join this group and receive any emails that we send. If you no longer want to receive the emails, you can just opt out of the group and not receive further mail. OR you can just click the link and read the current, and all previous, emails.
Our plan is to send updates of our position and travels to this group, so anyone who is a member, will automatically get our updates.

We are the only people who can send an email to the group. So, you should NOT get any spam by joining this group! To join the group you can send an email to:
Position_Reports-Guenevere-subscribe@yahoogroups.com
Note: There is an underscore " _ " between "Position" and "Reports", (Position_Reports)
THEN, follow the directions on the reply email to insure you are signed up.

Or you can:
1. Go to http://www.yahoo.com
2. Select "Groups", it is normally in the line of items called "Connect".
3. Search for "Guenevere" and find/select "Position_Reports-Guenevere
4. Select "Join This Group" Note; you may need to select a password.

OR
You can just go to:
http://groups.yahoo.com/group/Position_Reports-Guenevere/
Note: There is an underscore " _ " between "Position" and "Reports", (Position_Reports)
And read the reports on line without receiving any emails.

Thanks for your interest in our travels, and we hope you enjoy hearing from us and reading about our on-going adventures!

Greg & Jill