A short note on a couple of technical things So far, every place we have stopped, we have found free wireless internet (WiFi) access. As a matter of fact, in Santa Barbara, if we went to a restaurant called "Sambo's", and used their free WiFi, they took $5.00 off of our bill. So, that is how we are keeping up with our email and web page. NOTE, I spoke to soon! We just got to Ventura and cannot find any free WiFi. Also, none in the Channel Islands or Dana Point.

Another interesting note is all of the different food stores we are getting to explore. We were at the store in Santa Barbara, and found "Grapples". They look like an apple, but taste like grapes! It's GREAT to explore at a leisurely pace! Here in Ventura, we are about to attend a Greek restaurant with a belly dancing show. What fun!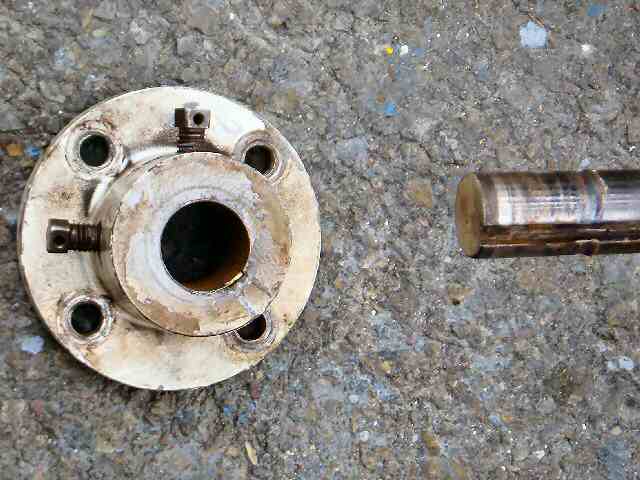 Now, on to our prop shaft problem from the last report. As we were putting the system back together, I asked for the tech to do an alignment of the prop shaft and motor. An alignment is one of the very few things that I have not done myself. I never felt that it was something I had the knowledge to do. So, back in the Bay area I had the system aligned twice (about 6 months apart). You would think it would be close wouldn't you? I wasted my money in the bay area!

The first thing the local tech did was to remove the flex coupling, something neither of the bay area techs did! Once it was out, we tried to link the system up. It was over ¼ inch off!!!! Normally you get it to within 30 thousands of an inch. So it took about an hour to get it in alignment to about 25 thousands. We then put the flex coupling back in. It now runs a lot smoother. I think that this was one of the factors that made the system fail early. I had the tech talk me through doing it myself, so I will take care of it from now on.

Back on to our trip notes.

Greg –

Those of you, who know me/us, know how much we love good food! So I thought I would say a few words here about discoveries we have made along the way. One of the going away gifts we received was "Grilling Spice" (THANKS Ken!) made by Williams Sonoma. This is great stuff! Jill has been getting pork loin roasts, chops, & chicken and we have used it on all of it with GREAT results. At anchor, all the boats around us do some serious "ground hogging" out of the hatches when Jill is cooking!

We have also found a few great places to eat.

If you are in Monterey, stop at "Rosine's Restaurant! It's on the main street and serves a very good meal at a reasonable price. BUT, what stands out is the desert cake. We had dinner and decide to split a piece carrot cake. I swear, it was the size of a small car! We had to take turns carrying it back to the boat. And it was delicious!! All four times we had it. And remember, this was ONE SLICE, NOT the whole cake!

If you are in, or even close to Morro Bay, and want an elegant dinner, stop at "Windows on the Water" (699 Embarcadero No. 7, Morro Bay, Ca. 93442, 805-772-0677). So far this is the best restaurant we have eaten at in the last 10 years! They serve a great Abalone. The food, every item, is an art sculpture in presentation, and, a delight to the pallet. I kid you not, this is a place worth the drive!! The price was not low, but worth every penny. We were not dressed up (do we ever do that, NO) but we were treated as if we were in a tux and evening gown! I can't say enough good things about this Restaurant! A hint, we had a Tiramisu for dessert, it came in a chocolate sculpted coffee cup and was the best we have ever had. When we finished, only a bare plate remained!

Now, if you find yourself near Ventura Harbor, and are looking for a FUN family time, with entertainment, stop at "The Greek at the Harbor". The food was great at a very reasonable price. Belly dancing was fun to watch (Jill let me put $1 in her waist band GRIN). If you can make it, the Saganaki was WONDERFUL!

Now on to the traveling.

We had a very nice trip from Santa Barbara to Ventura on November 11. We had calm winds and sea. We had the treat of a pod of dolphins play with us for about a half of an hour. Greg took some video. At one time there was 4 to 6 all playing in our bow wave all at the same time. It's a wonder how they can move so fast, so close together without bumping each other. What a gift this was!!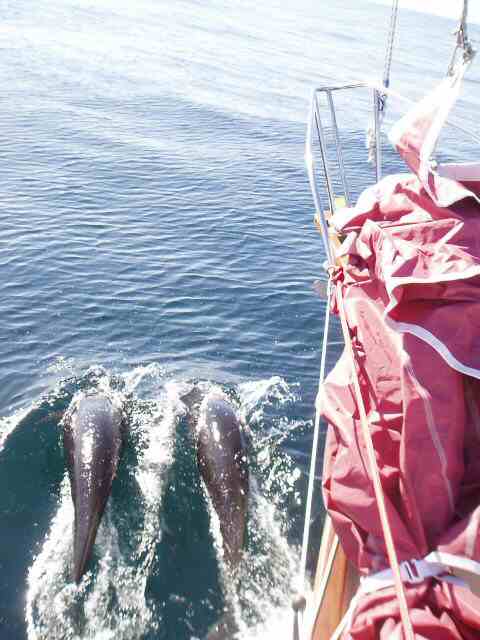 We then moved on to Channel Islands Harbor. It's a very nice place to spend a few days. Stores are close by and the slip rental was very reasonable. We had the good fortune to meet up with some friends here that we thought we out of town. We spend some very special time catching up on news. We also met up with two other boats that we had met in Monterey and Morro Bay. They decided to sail out to Santa Cruz Island and we stayed behind to visit our friends. About midnight, the Santa Ana wind came up and they woke up in the middle of a gale on a lee shore. They all made it out of there and did not get back to Channel Islands until morning. One other boat was lost as it was smashed on shore. The family was air lifted off the island. This is a reminder to all boaters to always be vigilant and pay attention to wind and wave. We are all responsible for our own safety out here, as in these conditions, you cannot expect any help.

We had our first potluck with our boat friends. Mary, aboard s/v Fandango, made a delicious grilling sauce for grilled port tenderloin.
Recipe below if you would like to try it. This potluck was our last evening at the Channel Islands. We then made an overnight passage to Dana Point.

Peanut Sauce

¾ C water
½ C peanut butter
2 cloves minced garlic
½ tea. curry powder, or to taste
1 Tbsp. firmly packed brown sugar
2 Tbsp. lemon juice
2 Tbsp. soy sauce

Mix all ingredients together in a saucepan and heat until thickened. This is a generous amount for up to 1 ½ # of pork.
This can be brushed on the meat while it is grilling. It may be served hot or cold.

We had an uneventful trip to Dana Point. The winds were light, and we had to motor sail most of the way. It feels about 10 degrees warmer here!! We are having wonderful weather. They have a replica of the ship Pilgrim here. That is the ship Richard Henry Dana sailed all along this coast. We are reading Two Years Before the Mast as we travel.

Our first night here, we started hearing a sound like scratching or chewing coming from deep in our food lockers or aft cabin. We opened cabinets and checked under floorboards and could find no evidence of an intruder. We were sure we had picked up a mouse or rat from the last marina. We were ready to get some dry ice and gas the boat! As we were determining what to do to treat the boat for mice, local boaters told us that it is a local phenomena here possibly small creatures outside the boat!

We met a friend here and we were able to spend Thanksgiving with his family. We had a wonderful time. We emailed our son Aaron who is still in Asia. He wrote back that he had forgotten that it was Thanksgiving. Now that's a vacation!!!

There is good food here and a West Marine store nearby so we are using the nice weather to finish a few of the projects that we had saved for later.

It is so surprising to us that it has become so difficult to find email connections and wifi as we move further south. I'm not talking about a foreign country now, I'm talking about Southern California! We were spoiled in Northern California. They say it is because here everyone is out surfing waves, dude. Before you say "just go to Starbucks, they're on every corner", try walking to one when you need it! NOT ONE TO BE SEEN!

We had dinner here at the Dana Point Yacht Club and are they ever a nice group of people. There is a very active boating community here.

We will be here until the end of the month-a few more days, and then will head for San Diego.

To all you boaters who left Northern Cal about the same time that we did, hoping you are polishing up your Spanish and scoping out the good stuff for our arrival. Yes, we promise, we will be there. Hope you are having as good a time as we are.



When we send an E-Mail from Guenevere, our system automatically reports our latest position. If we have sent an email with the last day or so, you can call us up on a map and see where we are! To do this just click on the a link I have placed below...