Position Report 2004-09-30
Half Moon Bay, Ca.
37` 30.15" N 122` 29.04" W
Area Info:
Fresh Salmon (caught this morning) directly from the fishing boat is about $4.00 a pound.
It's been foggy most of the time we have been here. GREAT anchorage area.

Jill ----
Wow! Since my last day at work (June 25), we have been racing time to get the boat ready for our departure and wind up our shore side life.
We spent the month of July working on storage and saying good-bye to friends and family. We did get to take the boat out for several days around the fourth of July. We met friends in Richardson's Bay and anchored out. It was a good shake down for the boat projects we have accomplished. We did discover that our new boom is 6 ½ inches too long. I'm glad we discovered this while in the bay. On a tack, we hung up the boom on the back stay. Better to work on this while still in the bay area than out at sea.
The first part of August, we hauled out for our final inspections of the bottom of the boat and to change the thru hulls and many, many more projects (when will we ever get to the end of the list??)
We finished and got the boat back to the slip just in time for a visit from the kids.
When the kids left, it was back to work. We loaded all the necessities aboard the boat. Surprise!!!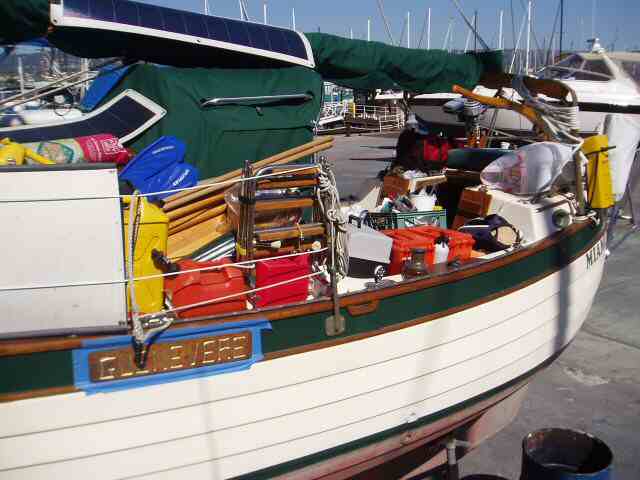 We have too much stuff aboard and are way low on our water line. Take every thing back off the boat and decide what must be left behind. Then we repacked everything and diagrammed where it was stored on the boat. A little better, but we are still too heavy. At this point, I must thank all our dear friends who took our castoff items and acted so happy to have them. (That must be how we got so many things to begin with).
The last two weeks have been filled with highs and lows. Birth, death, and serious injury. We realized that we would not be here physically to support our friends and family at times like these. If we do not follow our dream now then when? Life goes on-time goes on. We love you all and will carry you in our hearts and thoughts.
September 15, 2004
When does "cruising" begin? Is it when, having acquired the boat and spent countless hours and $$ working on it, you now deem it "ready"? Is it when there is no money left with which to outfit and provision? Is it when you have saved enough money or have enough time or when the kids are grown or out of school?
For me, I thought it would be when I quit my job, but I was then working twice as long and hard getting the boat tasks ticked of our list. Then I thought it would be when we had our dock line cutting party. When we would say good by to family and friends who patiently listened to us plan our escape for years. But these events came and went and we were still working preparing. I, then, thought when the cars and TV and Internet connection went away.
Today we left our slip for the last time and said good by to our neighbors. We are swinging at anchor at Treasure Island and that's cruising! We no longer have a physical location where we can be found. Of all the things we have done to get prepared, untying the dock lines and moving away from our slip for the last time was the simplest and yet in some ways, the hardest thing to do. Finally saying "we're ready". We still have a list with uncompleted tasks on it, but they will get done as we go or not at all. This evening, we watched the sunset and had a nice dinner and spent time just being together and watching the world. We are ready for more of this!
But first! Reality creeps in! We have decided to haul out once again. Because we are so low on our waterline (yes still) we must change some thru hulls that are now at the waterline. Since there is always something to be done, we find many more things to do. While we were in the yard, we met so many wonderful people. This is our first trip to the yard where we did not have a car with us. Several people we have just met, offered to lend us their cars for trips to reprovision and to purchase parts. We felt hesitant to accept these offers. As we were walking to the main street our boatyard neighbor pulled over to the curb, got out of his truck and handed us his keys. He said he would pick it up later tonight and walked off down the street. Being good cruisers, we headed directly to the ice cream parlor. This generosity surprises me. In these times, it is good to remember the good spirit and generous trusting nature of Americans.
We splashed on September 23, topped up the fuel tank, and spent the night at Treasure Island. In the morning, over to Alameda to run the measured mile to set new instruments, then to Sausalito. We spent four days at anchor in Richardson's Bay. Tuesday morning at 6:45, we headed out the gate. I wish I could say it was a beautiful sunny day but we are talking about the San Francisco Bay so, of course—it was foggy! We had a nice trip south to Pillar Point. We saw so many pods of dolphins that we began to lose track of the numbers. They were all heading north. Migration?
We arrived at 1500. Made the boat tidy, ate an early dinner on board, and took warm showers.
Greg ----
As Jill said above, we have been doing a LOT to get ready!
One thing I found very interesting about our passage to Half Moon Bay was that we had the company, sort of, of two other boats. As we were coming out of the San Francisco bay, a small Montgomery sailboat was also heading out. I took a photo of him, and one back at the bridge as our last view of the Golden Gate. When we got here to Half Moon bay we settled in. After our early dinner I looked over and there was that same small Montgomery sailboat! I went over and talked to him. It is 15 feet long. And we thought we were on a small boat! His name is Richard and the boat is named Q2. He had no autopilot/self steering/generator etc…He said his goal this year was ONLY Monterey. Last year he sailed it all the way to Oxnard! From San Francisco!!
This is a photo we took of Richard as we were out the Gate.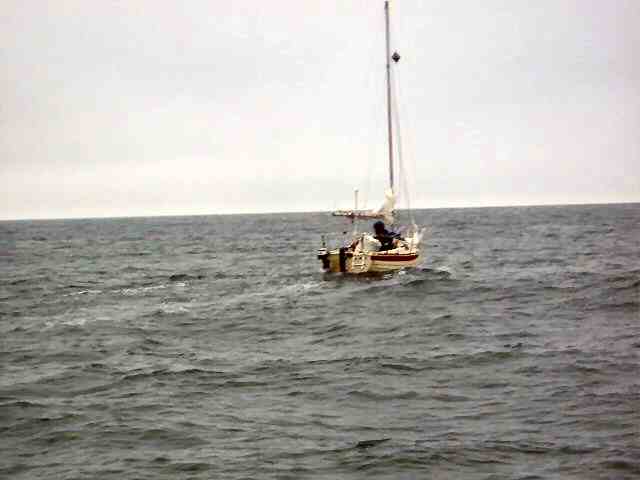 As I have said in the past, it's not as much about the boat as the crew.
Later in the evening, we were visited by the crew from S/V Chalet Mer.
A number of people have asked why we did not hurry and get out sooner. Well, we departed only after we thought the boat was well prepared. And, I have explained to a couple of people, we are "retired", that's when life can slow down a bit. We are also "cruising" that's when you slow down and savor your surroundings, so we are now in double slow mode! And enjoying EVERY minute!