Well, February sure did get away from us! We were having too much fun, or traveling. So here is our latest update…
The month of February started off with an unexpected inland trip to the Mexico Wine country. It's not as built up as the Napa Valley, but some of the wines are very interesting. It was nice to get out and see the country around Ensenada. We went with another cruising couple, Claude and Ida from S/V Magic Dragon. They also introduced us to some of the best fish tacos we have had so far.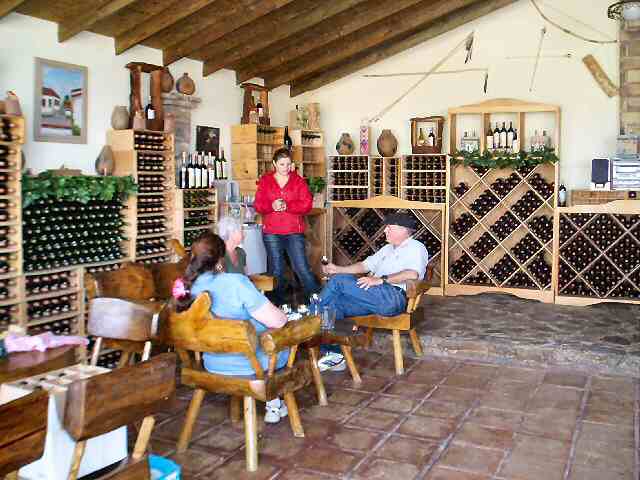 Greg
Something not often talked about in reports from boats out cruising, because we are always having such a good time, is being sick aboard. NO, NOT SEA SICK, every body talks about that. And not the hospital sick, just the small stuff. This month I had a bad headache. This is no fun ashore, but seems to be a bit magnified aboard. Jill also came down with a cold, also not fun aboard. We thought it might turn into something bad. The boat next to us had a nurse aboard, and she suggested we get some antibiotics just in case. Here in Mexico, antibiotics are an over-the-counter drug, so we got a 10-day supply. As it turned out, after Jill had a few cups of a drink aboard another boat, she felt fine (as did a few others), so we put the antibiotics into our med kit.
When we provisioned in San Diego, we took the advise of cruisers and cruising guides that said you would have to provision in SD in order to get all the goodies we are used to in the States, but we would advise, if you are heading down the coast, PROVISION IN ENSENADA! We got Filet mignon, for 159 Pesos per Kilogram, or about US $ 14.45 per kilo, or about US $6.65 a pound. And, it was GREAT!!! One of the BEST we have had in a LONG time. At least as good as in any restaurant we have been in. I cannot think of anything that we could not find in the Super Gigante here. And the prices are very reasonable.
As we said last time, we delayed our departure from Ensenada in order to enjoy the local Carnaval. It was Great! Imagine a carnival in town, throw in a circus, now 3 separate parades, then throw in a food fair and a rock concert with about 10 separate stages. And then keep it all going for a week!! We would go out each night and sample the fine foods and music (VERY LOUD). We were lucky to get seats for the parade. What fun!! The Mexican people are very fun loving. Many bought cans of spray foam and they sprayed the police on their motorcycles as they were keeping the streets clear for the parade. The police look very serious as they go about their work. We wondered if trouble might start, but they took it in stride. By the end of the parade, everyone was wearing spray foam. Jill caught some beads and we both got hit in the head by chocolates that were thrown out to the crowds.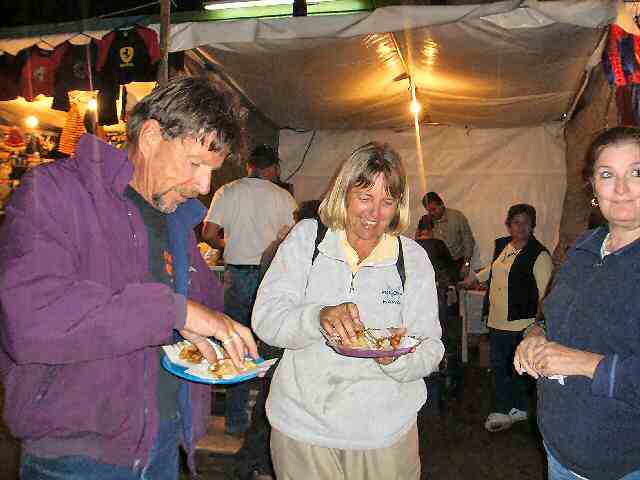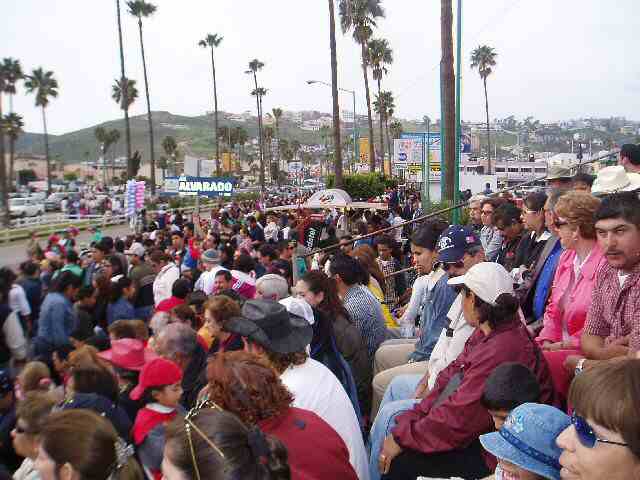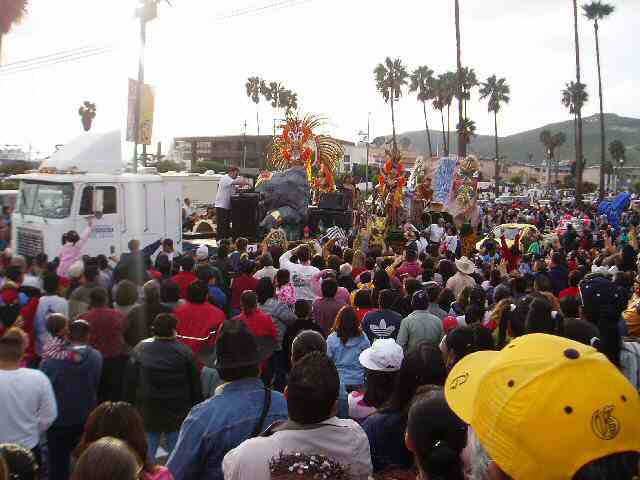 As we said, the food was something else! Have you ever had Alagator Chicken?
We're planning to head south just after Carnaval. But as it turned out, the weather turned less than accommodating. So we stayed and just had more fun with friends, and more good food. The prices for movies were very ,so we saw several first run movies, in English, with Spanish subtitles.
We departed Ensenada on February 24, and made an overnight passage to an anchorage called San Quintin. It is a large bay and was quite deserted except for fishing pangas coming and going occasionally. It felt good to be alone and quiet for a few days. We spent 2 nights and on Feb. 27, upped anchor and headed to the island of San Jeronimo, a quite small island with a fishing village on it.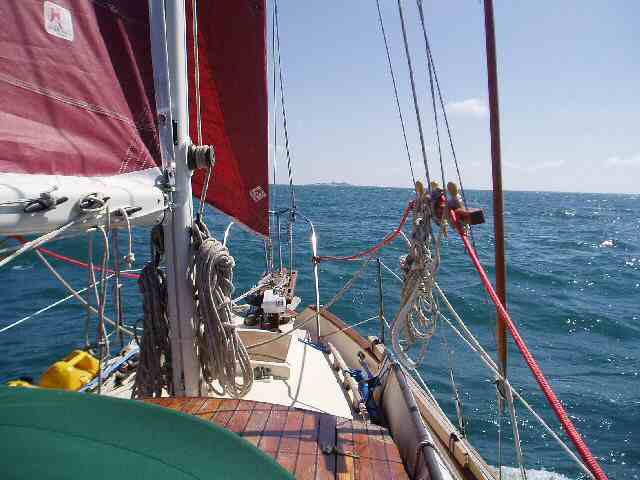 We had been advised by another boat that they had anchored off the island and when they got up in the morning, they had thousands of flies all over their boat. As we had hoped to stop at several of the islands along the coast, we took a chance here and our experience was totally different. It was a very calm anchorage and no flies. We spent one night and then headed to Bahia San Carlos (San Carlos anchorage). There is a small airport here. And the cruising guide says that this is a wind surfer's paradise. That should tell you something about this anchorage. We watched windsurfers play during the day. There is a small fishing village here. Pretty, but very windy and rolly.
On March 1, the San Carlos anchorage was getting very rough. It is not so much an anchorage as a small bight out of the land, an open roadstead. The weather was predicted to be blowing up to 30 knots from the northwest, with 12 + foot seas from about the same direction. Normally, we would NOT go out in that, but the anchorage was getting hard to stay in. The anchor lines were straining with a LOT of wind and the surf was starting to break further and further off shore. Read that as closer to us! There is an old adage that sailors have, "when in doubt, head out to the open sea". The wind and sea will not hurt a well-found boat, but rocks and land surely will.
We made a course for Islas San Benitos, 15 miles west of Cedros Island. We decided this would be an interesting stop as most people traveling this coast pass it by. After about an hour, it was clear that the following LARGE waves would not let us make a safe course to San Benitos! So, we altered course for Cedros Island. There is supposed to be a lot of good places to anchor there.
I have to tell you that this passage was not one of the high points of our trip so far! The seas were over 18 foot! The wind at or above 30. I guess that at this point we have to confess that not all of our time out here is fun and games! At 0218 AM we had a rouge wave (a wave 3 to 4 times bigger than the others and coming from a far different direction) hit the starboard side just about at the cockpit! I looked down and saw Jill sitting in the cockpit foot well in what looked like a bubbling white Jacuzzi with her foul weather gear on. On a nice warm sunny day, this would be funny. But let me tell you, on a cold night, in a storm, far out at sea, this was no fun!! And certainly nothing to laugh at! We got no sleep at all.
We did make an anchorage on Cedros Island the next morning, March 2.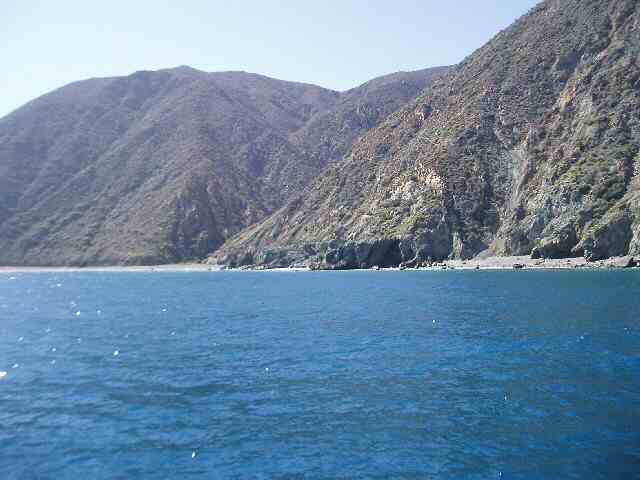 The anchorage we stopped at is called the "North Anchorage". It is supposed to be very nice and calm and protected. But with the large waves outside the island, it still had a lot of roll to it. The next day we decided to head further down Cedros in search of a better place to anchor. The cruising guide we have said there was an excellent anchorage on the southern end of the island. There is also a small fishing harbor almost to the southern tip. We made a pass close to the fishing harbor as we headed to look at the southern bay. Once we were able to see the bay, we immediately did a 180 and headed for the harbor! The bay was full of white caps!!
We had hoped to anchor away from the village of Cedros as it is a port of entry and has an official Harbor Master. Here in Mexico, if you stop at (or near) a harbor that has a harbormaster, you have to check in and out. That normally means a lot of paper work and at least a day to do it. Also, it can delay your departure, as you cannot just head out at will, you must check out with the authorities first. We asked ourselves
why we were so determined to avoid the check in process. We should look at it as an adventure.
We anchored north of the breakwater and crashed. It has been many many days since we have had a good sleep. Even when you have the anchor down, you don't get a really good rest, as you have to keep monitoring the wind changes and stand anchor watch.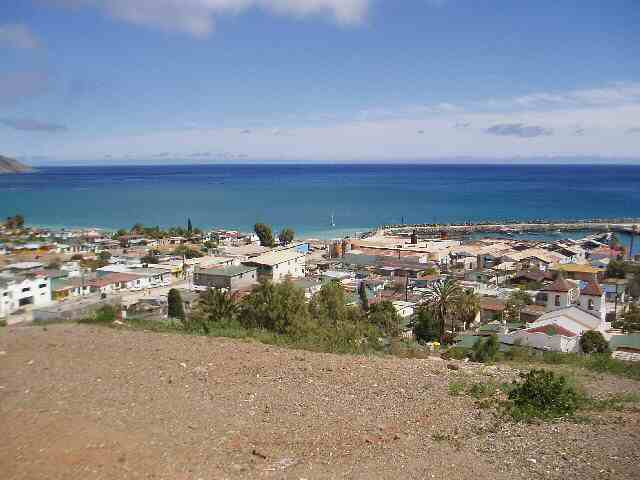 This is us, North of the breakwater.
The next day we put the dingy down and headed around to the entrance of the breakwater and looked for a place to tie up. We heard someone whistle and saw a man indicating a spot for us to tie up. This turned out to be the harbormaster and he gave us a ride to his office, which is about ½ mile up the road from the harbor. He speaks excellent English. So here we were practicing our broken Spanish and he was answering us in perfect English! We quickly finished our paperwork, he checked us in and out at the same time so we will not have to come back before we leave. We asked where immigration was and he said he would drive us (it is located at the southernmost tip of the island where there is an airport). Isaac, we believe, convinced them to also check us in and out at the same time, they spoke Spanish to each other and we could not follow.
Isaac then gave us a tour of the village. Isaac told us they only have about 3 pleasure boats visit them per month. He told us the village makes their living by catching tuna to sell to the Japanese market. If the tuna are not large or the ships have not come in, they keep the tuna in "jail" and feed them sardines. They grow bigger and are ready when the ships come. The tunas sell for $1000 US each. The salt company on the southern end of the island, about 5 miles away, brings salt across the bay from Guerrero Negro by barge. This is then shipped all over the world to be used in cold snowy areas on the roads. This is a very prosperous town. The guidebooks mention a fish fertilizer company that smells bad, but it is no longer there. They have many cars and trucks here even though it looks like a very small village and most of the roads are not paved.
Before he dropped us back at the harbor, Isaac invited us to anchor inside the breakwater.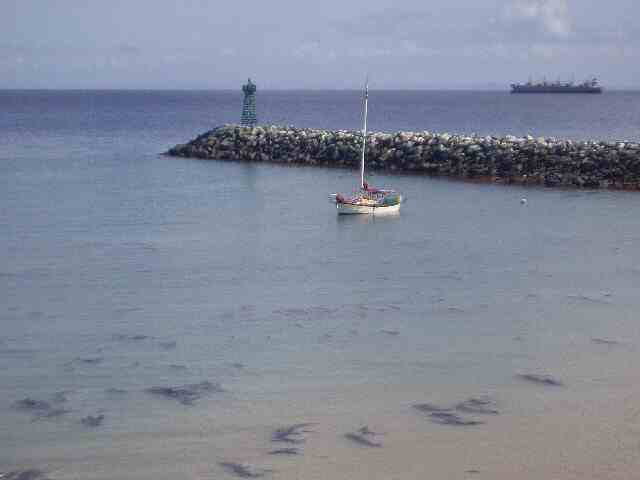 This was the first time we had been off the boat in a week. We found a great small restaurant and had a wonderful plate of 3 lobster burritos each! No filler in the burritos except the lobster, FOR UNDER $10.00 US!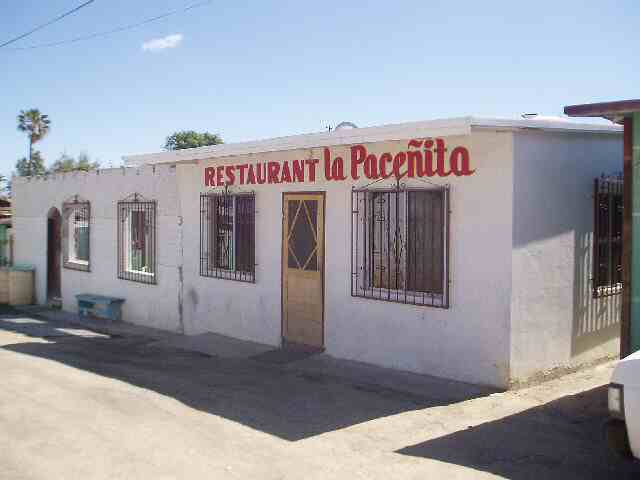 Oh yes, speaking of the cruising guides, and the charts, A part of what keeps us on our toes ALL THE TIME, is that you cannot depend on the reliability of ANY of our sources of information. Not even the charts. At the present time, our electronic chart plotter (big $$ with electronic charts updated every 6 months) does not even show this harbor, AND it has us about 500 feet aground! Each of the anchorages that the guides talk about as good anchorages are very open roadsteads, so you never get a good sound sleep or rest because you have to always be aware of the wind strength and direction.
On March 8th, we sadly upped anchor and headed over to Turtle Bay. It is only about 30 miles (6 to 7 hours) away. Now I know where Cedros gets the sardines! One of the fishing boats from Cedros is here. We dropped anchor not far off the village and started putting stuff away after the passage. At about this time, Greg found out he was having a tooth ache! NOT GOOD, in the middle of nowhere!
A good friend who also owns a Nor'Sea, and is a dentist had put a kit together for us some time back. He included a very nice easy to follow treatment tree. After referring to it, the course of action was to take a 7 to 10 day treatment of antibiotics and see a dentist as soon as you can. Well… remember the antibiotics we bought for Jill? Greg is now on them and we are planning to head to Mag bay, about 300 miles south, to see a dentist. We should be able to get there before the meds run out.
A great service here is Anabell's. The come out to your boat and sell you any fuel you need.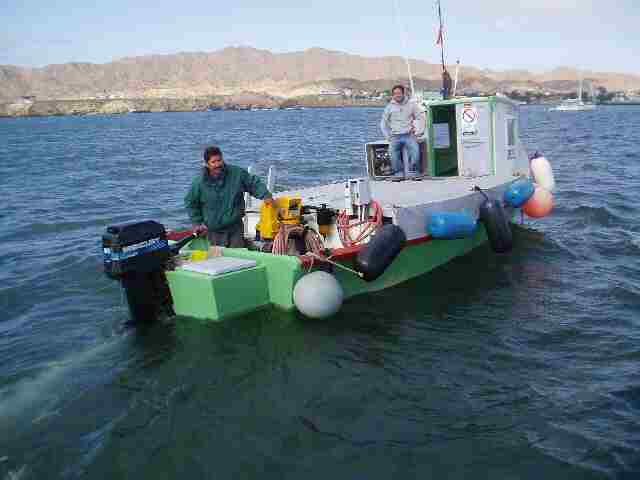 Well, a local fisherman we met a couple of days ago, just stopped by and dropped off a cleaned fish and three lobsters, GOT TO GO COOK NOW!!!