As of the last report, we were in Turtle Bay and Greg had a toothache.

A local fisherman stopped by our boat to talk, and we asked him if there might be a dentist here in Turtle Bay. He said, "Yes, we have a good one". He offered us a ride to shore. So we jumped into the panga and headed to shore. Once we landed, we asked where the dentist might be found. We were given directions and two young boys on bicycles accompanied us to make sure we found our way. We arrived at the local hospital/clinic. We asked about the dentist and were assured he was very good. We were then informed that he would be back in town in just 6 days!

On March 12, having found no usable dentist, we upped anchor from Turtle Bay & headed to Abreojos, we arrived the next day, March 13 at 9:00 a.m. Abreojos is a small open bay that provides a safe anchorage when the winds are blowing from the northwest. There is a very small village here. We did not go ashore.

On March 14, we upped anchor from Abreojos & went to Bahia Santa Maria. It was another overnight trip and we arrived March 15. This is a beautiful bay! There were three other sail boats anchored here when we arrived. They are all doing the "bash" back up north. We heard one of the boats telling another over the vhf radio, that the Mexican navy had boarded them. We saw the navy ship anchored in the bay so we were not surprised when they came along side in an inflatable and asked to come aboard Guenevere. They can be intimidating as they wear full uniform, big heavy black boots, and carry machine guns. They seemed very young to me and reminded me of our sons, so we enjoyed talking to them and they were actually very friendly and polite. They checked to see that our paper work was in order and then asked to look below. We invited them below and only one came below, looked around, told me my dinner smelled good and that was it. They would not accept drinks or dinner. When they heard about Greg's toothache, they offered to go back to their ship, the Uribe, and return with medicine for him. After they departed, we ate dinner and prepared to depart in the morning. We would love to go ashore and explore, but it won't be this time. There are supposed to be so many sand dollars on the shoreline that cruisers call it Frisbee beach.

During this trip we had the lower port door hinge brake on us. This was unexpected as they are VERY strong hinges. We quickly moved a hinge from our bridge deck locker lid to replace the broken hinge. We then replaced the locker lid hinge with a spare we kept aboard after we anchored.

Still "rushing" to find a dentist, on March 16, we upped anchor at Bahia Saint Maria & went to Man-O-War cove in Bahia Magdalena (Mag Bay).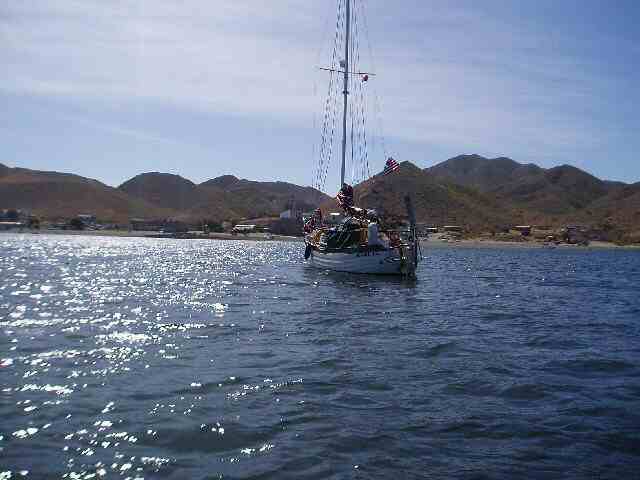 After a nine-hour trip, we arrived. It looks like we could almost walk across a sandy beach and be right back at Santa Maria. Such a long trip south to the entrance of Mag Bay and then back north to the cove where there is a small village. We have been looking forward to arriving here, as this is where the whales have their calves. We saw none while we were here, however!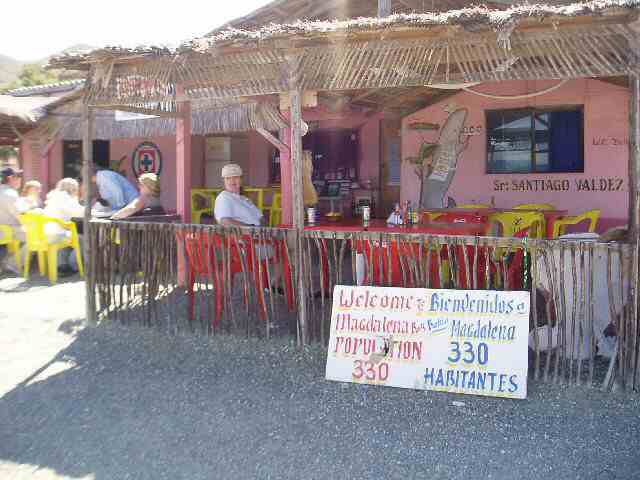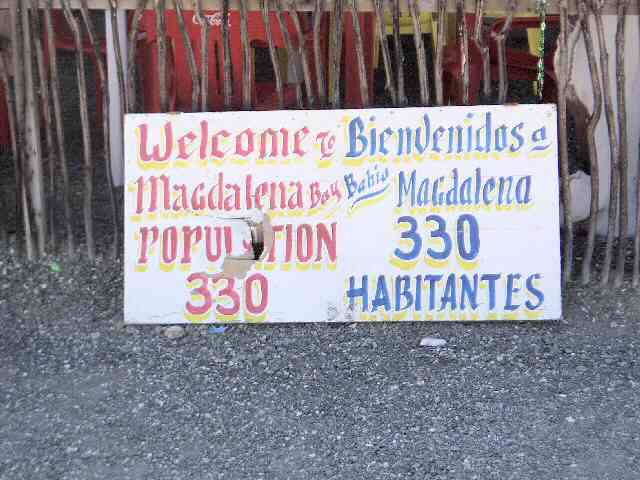 We quickly put the dink down and went to town to see the port captain. We were directed to the port captain's office and since there was no sign on the door, we walked inside. No one was there. We did notice a whiteboard on the wall with the name and date of a boat that left just after we left San Francisco. Apparently, it was the last boat to check in here on 11/04. We learned that the port captain was in San Carlos town and would be back the following day. A fisherman told us there was no dentist here in town but there was one in San Carlos and he would meet us at our boat a 9:00 in the morning and take us by panga to San Carlos. We agreed. In the morning, at 7:00 while cooking breakfast, we heard a panga pull up. It was the port captain. He said there was no dentist in San Carlos and if we would be ready in 10 minutes, he would take us to Constitution to the dentist. He took off for shore and needless to say we hurried and readied our selves to go. He drove us to San
Carlos in his panga (these are very nifty boats used for fishing and transportation all over Mexico). When we arrived in San Carlos, 25 minutes later, at the shore was Gregorio's wife waiting with their car. They drove us about 60 miles to the dentist. It turns out that this was Gregorio's personal dentist and they had called ahead to make an appointment.

The dentist didn't speak much English, but his son was better and was quite computer savvy. He pulled up Google translator and we got along just fine. As he was leaving the following day for 10 days, he could pull the tooth or we could wait until he returned. We decided to continue on to Cabo since Greg is not in pain. The dentist gave us several prescriptions for swelling and pain. He charged us nothing for his time.

Gregorio drove us to the farmacia, and looked sick as we paid $100 US for the prescriptions. He then took us to a wonderful market! Both families shopped and then we headed back to San Carlos. He brought us to his home and we had coffee and visited his family. Then back to the panga and back to our boat. We reminded him that we still needed to check in and he waved us off and said we had spent enough money today.

As our next leg to Cabo will be a long one, we decided to stay another day. In the evening, Gregorio pulled up in his panga, and asked for a knife. We gave him one and he pulled up a tarp and there was a beautiful yellow fin tuna. He whacked off a huge piece and gave it do us. It is delicious!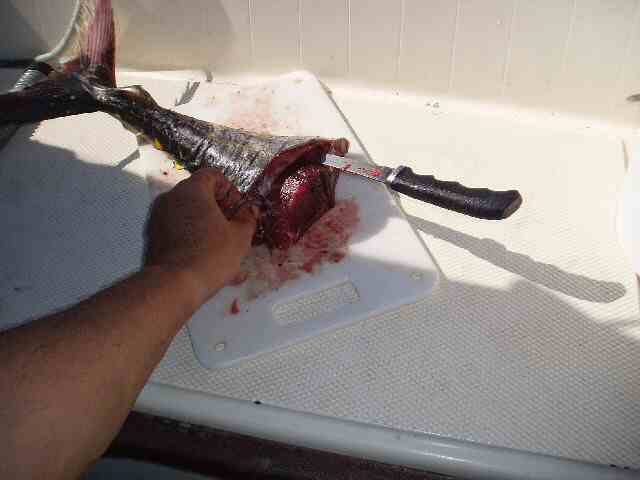 Because of the distance to be covered to Cabo and so we could arrive by daylight, we made a decision to leave Man-O-War Cove at 0230 on March 19, just as the moon was setting. We have always said we would not enter or leave port at night. So now we have broken our own rule. We reinforced our original idea, when we got out in the bay and saw how different everything looks and sounds at night. As we were trying to figure out the patterns of lights, a panga crossed very close in front of our bow. I hope he saw us, because we did not recognize his lights. We will not do this again!!

As we got closer to Cabo, the weather got warmer and warmer. Finally!! The watch crew began shedding clothes until there was none left to remove.

We arrived at Cabo San Lucas at about 12:30PM, March 20. This is about the end of our southbound trip for a while. From hear we head east and north, AND IT KEEPS GETTING WARMER! We have now done 1, 559 Nautical miles (1,794.07 statute miles).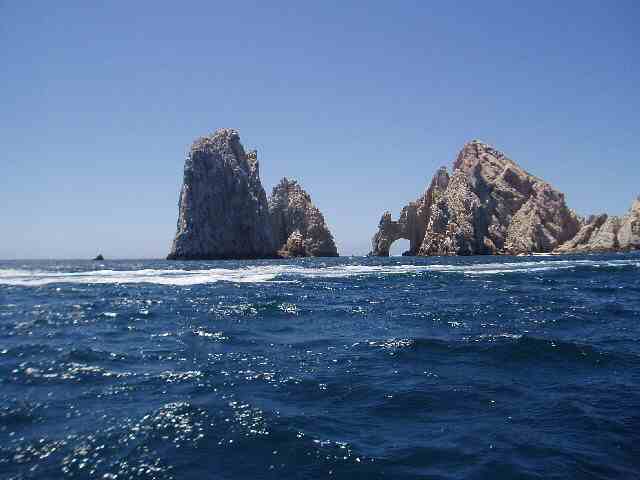 Cabo is just what you can imagine. VERY expensive and touristy. Never one to resist a challenge, we took a slip and immediately went exploring to find out-of-the-way places.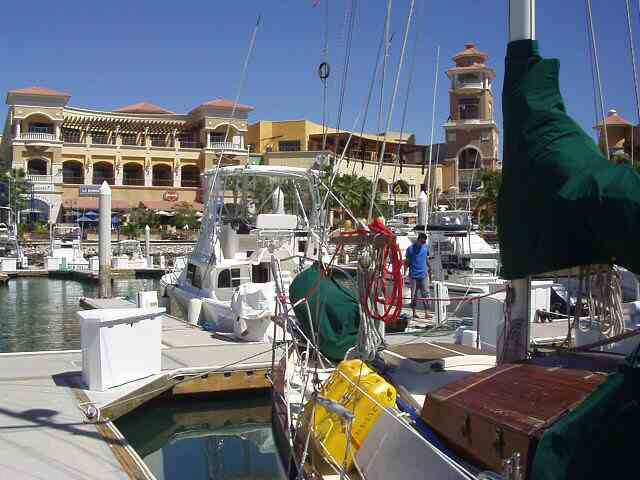 Because of the many Americans vacationing here, you can get about any "American" food you desire here. For some reason, I craved a hamburger and fries so we made our first stop at Johnny Rockets. Greg wanted bar-B-Q ribs, so for dinner we went to the Hard Rock Café. This IS NOT Mexico! This is Disneyland for adults! Everyone speaks English and you would think you were in the states. We washed our clothes (at a private marina area complete with our own swimming pool and patio!)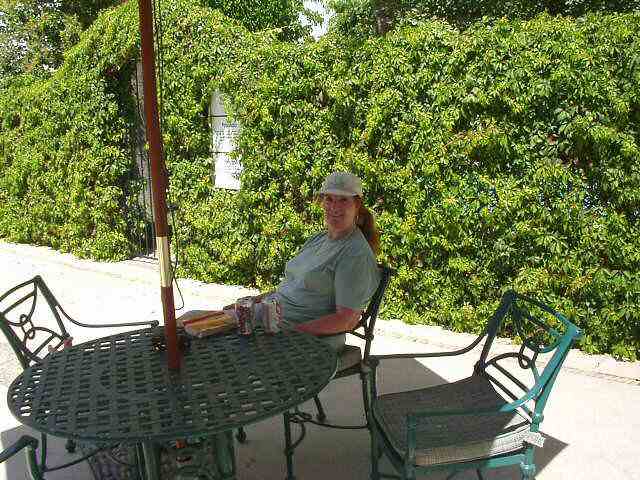 and walked through the malls and shops. We had to check ourselves in at immigration and with the port captain. We walked about a mile to immigration and we were told that it was vacation and since we were leaving in two more days, just come back and check in and out at the same time. By the time we checked out, we were ready for a quite anchorage. Cabo is a 24-hour a day town. It was great to be right in the middle of all the activities, but we tired of that fast. So, on March 24, we departed the dock and made our heading toward Los Frailes.

Ahhhh we arrived in Los Frailes at about 5:30 PM. We have finally had a warm weather sail and arrived in a beautiful bay. The water is so clear and only one other boat is at anchor here. On the shore, we see many tents. It is Easter vacation and many families have come here to camp.

At this bay, you see large rays jumping out of the water all of the time. They jump and turn or summersault out of the water. We watched for hours at this wonderful show put on by these beautiful creatures. We wondered why they do it, and then, just contented ourselves to watch as the sun went down in a fiery red blaze. HOW BEAUTIFUL!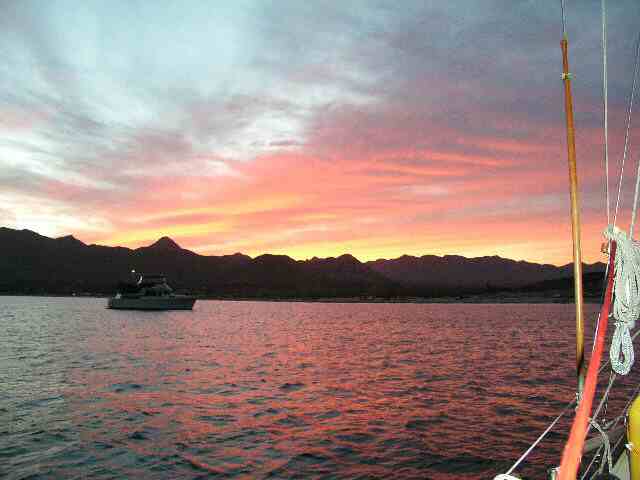 We have trailed fishing lines every time we make a passage and have not caught anything! Greg decided to try hand line fishing. Success!! We finally caught a fish-a blowfish! We let it go. Another strike! A parrotfish. Since it feeds on coral, we will not eat this fish so we let it go, also. Another strike! A blowfish.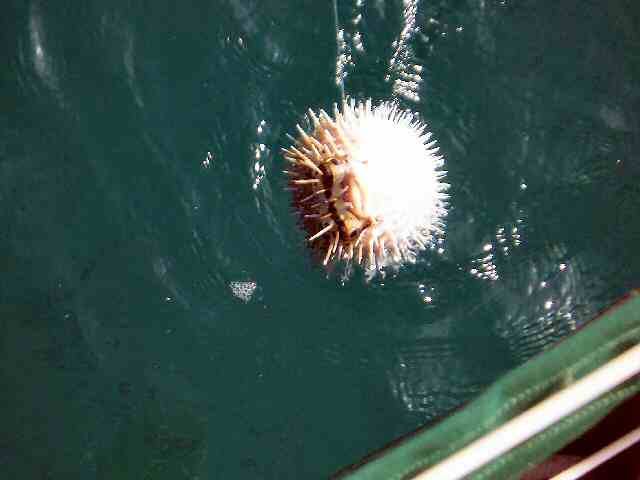 We put away the fishing line. The next day, two huge mega yachts motored into the harbor. They off loaded jet skies, wind surfers, kayaks, and a motorboat the size of our boat.

We liked Frailes a lot. But, we had our one and only (so far) bad experience with other boaters here. And they were from the good old U.S.A. NOT Mexico!

We were anchored about ¼ mile off shore in a spot just where the rocks and sandy beach meet. Shortly after noon, a powerboat came into the anchorage and anchored between us, and the beach! As he let out his anchor chain and drifted back he came to rest just a few feet (less than 50) in front of us. I walked up to our bow and looked over at him. He was just getting down off of the fly bridge and when he saw me I said in a normal voice (didn't have to shout), "too close".

For the non-boaters here, normal anchoring protocol is that the first boat in an anchorage has the "right of way" if he asks, you must re-anchor or move away. If he uses two anchors, so must you if you are at all close to him.

He said back to me, "I'm only staying a few hours and I ain't F#$% moving!" We are shocked! He is now so close to us, that his boat is over our anchor, so we cannot even raise our anchor to move without hitting him! As Greg stands on the foredeck looking at him, he shouts to him, "You don't have to be an A$$ H*&#$ about it!" Greg raised his arms to the side and said, "Look at the size of this bay". Frailes must be at least 2 miles wide! With the last comment he made, Greg just remained on the bow ready to fend off if his anchor or the waves pushed him back at us. The skipper then made a few rude remarks about us, and Greg did NOT say what was on his mind! After about a half hour they did move. It was a group of about 2 couples and 3 or 4 kids. During the rest of the day, they would take their dink past us as fast as they could to make a wake and try to disturb us. That night they played their music VERY loud to try to disturb us. A waste of time as there was another boat (we felt sorry for) between us, and them. They shined their spotlight onto our deck for about an hour after dark, apparently to get a rise out of us.

We have read stories and seen this action in boat training films, but have never experienced this type of rude obnoxious people.

The name of the boat was something like "Flbait" or something like that. I will put a photo of it here when I get the time.

We really want to stay in Frailes and dive, and explore, but we are still being controlled by the fact that Greg still needs to see a dentist, so on March 28, we up anchor and head for Los Muertos. The turds were still there at anchor, sleeping it off if it was my guess.

As we anchored in Los Muertos, and settle in for dinner, the winds come up. They blow all night long and continually change direction. We stand anchor watch all night and worry that the changes in wind direction may loosen our anchor. By morning the wind lets up and we get an hour or two of sleep. When we get up, we are the only boat in the anchorage. The other boats have taken to sea during the night.

We decided to go from Muertos, on March 29, to a small cove, Ballandra, that the cruising guide tells us is about 18 miles from La Paz. During the trip, there is no wind, so we are motoring along and Greg goes below to catch a nap. Greg - after about a half hour I hear Jill talking away. Am I hearing things? I have heard and experienced hearing voices at sea, but always at night or when very tired. Maybe Jill is singing, no, it is clearly a conversation going on, and about fishing (NO fish so far DRAT!) So, I stick my head up and look out. There, about 20 feet to port, and keeping pace with us, is a fishing panga, with about 5 fishermen in it. They are advising Jill how we can catch fish!

We had to motor through the San Lorenzo channel, between the main land and an island (Espititu Santos) that we very much want to visit later. But this channel is very rough. It only takes about an hour, but is not nice to us.

Once past the channel, we found Ballandra anchorage.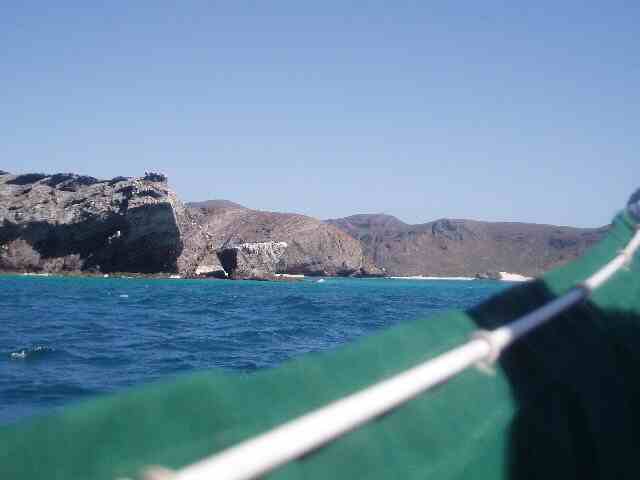 We made a couple of passes, this day; it did NOT look nearly as nice as the cruising guide made it out to be. It was also not as protected as we had hoped. So, we continued on for about a mile and looked at a small place called Caleta Lobos. This place was great for us. I think a larger boat may not have liked it as much as it was small. But it was very protected, secure and calm with good sand holding.

Once we were anchored and secure Jill started dinner and I started our chart work for the last 20 miles to the marina. Something was wrong! I re-did the paper chart work AND the electronic chart plotter work. We were only 8.5 miles, TO THE MARINA ENTRANCE! We could have easily made it in before dark. But, as it was such a nice anchorage, we decided to spend a quiet night before we had to enter the hussle & bustle of the marina and shore based life.

After breakfast on March 30, we checked the tide and headed to La Paz. When we were entering the channel to La Paz, we heard our boat name called on the vhf. We looked around but saw no boats. It was a friend calling from the marina on the off chance that we were close enough to hear. By the time we arrived at our slip in Marina De La Paz, we had a group of friends waiting to help us with our lines. Judy, aboard Desire, slipped a piece of paper into my hand. On it was the name and address to a dentist. What a warm welcome! Many of the boats we have met along our way are now here in La Paz.

Mary and Mac, the owners of this marina have been here about 30 years and I have just discovered that Mac is the designer of the wonderful pangas that we have been admiring along our way.

Now that Greg's tooth doesn't hurt and we are ready and able to get it looked at, he has chickened out. He wants to keep delaying even making an appointment. We walk around town and take care of a few errands and, suddenly, I notice that we are right around the corner from the dentist's office. We must go make an appointment. Greg will see the dentist on the following week. On Monday April 4 Greg went into the dentist for the appointment. The dentist was GREAT! He spent an hour with him. First took an x-ray and then went over what had most likely happened. The tooth had already had a root canal so did NOT need to be pulled! It was most likely a seed or popcorn husk that had lodged between the gum and tooth. The antibiotics took care of everything. He then did a complete cleaning and pronounced Greg "Good to Go". All of this for under US $50.00! And the place was spotless! The office was as modern, or more so than a lot of offices in the U.S.

La Paz is a beautiful place. The weather is warm and sunny. There are friendly people both boaters and locals. Prices are very reasonable here. They have a club here for cruisers. The club is also used to raise money for charities, a free library, and mail service.

On one Saturday evening, we attended a "Chamber Music" recital by the La Paz Orchestra. It was held at a local restaurant close to the marina. We listened to 2 full hours of music, had a "Surf & Turf" dinner and beverages for about US $16.00 each. It was a lot of fun. Every week at the same restaurant, Ciao Molina just outside the gate to Marina de La Paz, on Wednesday nights any and all musicians in the fleet are invited to a jam session. They also host dominos on two nights a week and poker games a few times a week.

The next day, four boats got together and rented a van. We drove to an art and cultural fair in a small town called Los Barriles.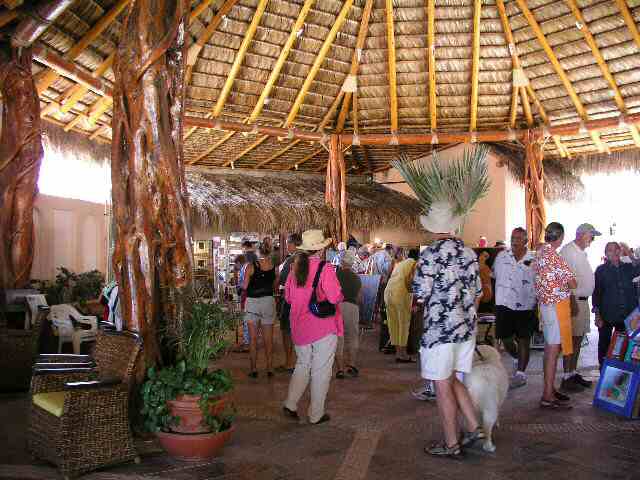 We saw a few demonstrations by local kids and some wonderful dancing and hand made artwork. We hopped in the car and then headed around past Cabo San Lucas and up to Todos Santos. Todos Santos is sort of like a small art town with a LOT of shops and a "Hotel California". We stopped there for a time to admire all of the treasures and have a nice dinner. Then back in the car, and we arrived back at La Paz just around sunset.


The cruisers put together a three day bay fest. We attended seminars, beach volleyball, Mexican train dominos, blind dingy races, gps poker runs, a "see shell museum"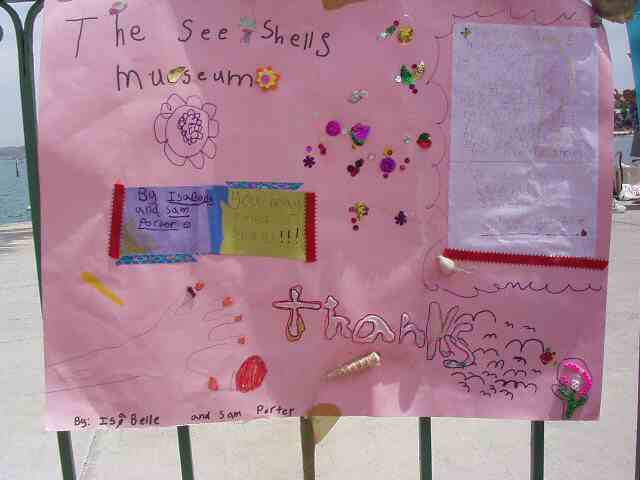 -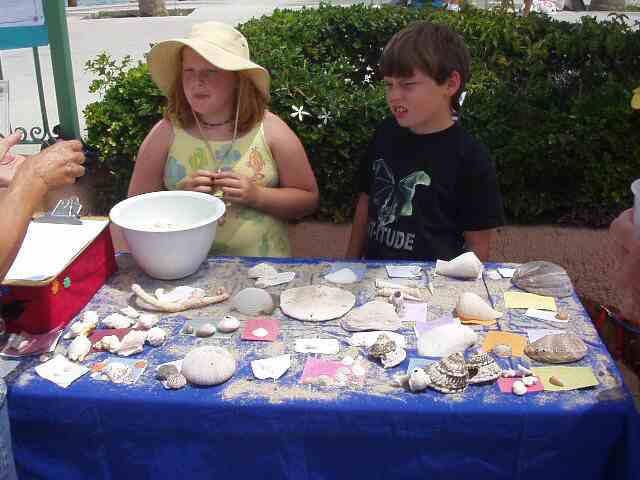 (put together by three children cruising with their parents), dress like a pirate day, potluck meals, and cooking competitions, open mic for local bands, and Captain Ron day where everyone was to dress like a character from the movie Captain Ron and in the evening, we watched the movie outside under the stars.

We have to tell you, you see some of the most beautiful sunsets here in the Sea of Cortez. I must have a hundred photos, each better than the last!



It is easy to see why people keep coming back here year after year or just never leave. Most boat repairs are easy to get done. There are every imaginable service here and all at very reasonable prices.

The cruising community is just incredible! We have seen them instantly go to the aid of boats in need without even knowing the owners. The cruiser "phone" is channel 22 on the vhf radio. Most people leave this on all day long. And any request for help and/or information is immediately responded to.

We are now waiting on our FM-3 visa paperwork to be completed. When this is done, we will not be required to leave Mexico and come back every 6 months in order to renew our visas. We are also having the teak refinished. This is the first time since we have owned Guenevere that we are not doing it ourselves. It's a bit traumatic and hard not to jump up and take a more active part in it, but they do a fine job.

We were sitting in a local restaurant and spotted a friend of Jill's walking by. What a small world! We had not seen him for about three years. It seems that he and his wife are renting a home here and are looking for a house to purchase. We got together and had a wonderful day catching up and also driving around La Paz looking at areas we had not seen and looking at houses.

As soon as the above two tasks are finished, we will head out of here and start making our way further up into the Sea in search of some of the finest anchorages and gin clear water this side of the South Pacific.

We have received a few questions, by email; regarding our travels and think others might have the same questions so we will attempt to answer them here.





Questions -




Do we speak Spanish?



We don't speak Spanish. We carry a Spanish/English dictionary to help us and have been practicing common words. We could take classes here. There are many offered, but we feel at this time that practice is what we require and we are getting that. Not many people here speak English and as we get to smaller villages, even less English is spoken.



Is it HOT there?



Today, April 24, at about 7:00 AM, it was about 70 degrees; now at 7:00 p.m. it is 89 degrees. It will get much hotter here and further north, we are told that during the summer it can get up as high as 130 degrees. We are learning about siesta. If you have to walk about town, you do it early in the day and then, as the locals do, rest or read during the hot part of the day. Here, most businesses open at 10:00 a.m. and
close at 1:00 p.m. and open again at 4:00 p.m. Shade is very important here and every one has shade covers on their boat. When you visit other boats, you are invited aboard to get out of the direct sun. Swimming is a very popular sport and spray bottles help to keep you cooler. Most cruisers wear hats.



Can you drink the water?



Yes and no. It depends where you are. In Cabo, we had no problem drinking water with ice. In small villages, we drink only bottled water or bottled drinks. We get small limes with our bottle and run the cut lime around the top before drinking and usually add limejuice to our drink. It is very refreshing. The marina here in La Paz is now stating that the water is "probably" ok to drink and some people here do drink it. We are using it after it has been filtered. So far, so good. We are equipped with a water maker and when we are not in port, we make our own fresh water. We are eating fresh fruits and vegetable in restaurants now and have not had any problems. We think that the longer you stay, you get used to the water.



Why do we go into the marinas?



In every area where there are services there are marinas. Sometimes you can chose to anchor, but most times if you need the services, you must come into the marina. That is where there is fuel, water, and food and a place to properly dispose of trash, and pump out holding tanks. Here in La Paz, you may anchor out or tie to a mooring. They then provide a dinghy dock for a small price per day so you can drive in (with
your dink) to take care of needed things. If you use the dinghy dock and take a shower each day, the cost is almost the same as just docking your boat (for smaller boats). So, why not just tie up and relax? Anytime you have your boat anchored, you must be aware of changing conditions and we have had parties and gatherings interrupted when people have to return to their boats to secure them. You don't get as much rest at night at anchor because you get up to check the anchor throughout the night and also make sure other boats do not drag anchor onto you.

If you are at the dock, to go shopping you:
Walk to the store, get your stuff and return, (walk, bus, or taxi depending on the size and weight of what you bought), put it in a dock cart, (provided by the marina), walk it to the boat, put it aboard, and put it away.

If you are anchored out, to go shopping you:
Put your dink in the water, (the first time can take up to an hour of work), drive in to the dinghy dock, pay the daily dock fee, (secure you dink and anything in it), walk to the store and return (same as above), put the items in the dink, drive the dink back to the boat and hope the water is calm! Or you have a wet ride and wet supplies, then lift the stuff up into the boat and put it away, then secure the dink. If it is the last time you will use the dink it can take about an hour or so to store back aboard the boat.

Also, there is a social interaction in the marina that you do not get at anchor. We LOVE to anchor out, but we also like to be in the marina from time to time. It's good to see both sides of things; you can't appreciate the one if you have not experienced the other.

We see boaters all along the way choosing to anchor out for a variety of reasons. We feel it takes much longer to get things done when we are at anchor and information gathering is much slower. We like to take advantage of the security of the marina and then leave to discover beautiful anchorages.

Next report bobos, no-see-ums, and bees


When we send an E-Mail from Guenevere, our system automatically reports our latest position. If we have sent an email with the last day or so, you can
call us up on a map and see where we are! To do this just click on the a link I have placed below...