Hello all,
Where does the time go? When we last posted a report we had just spent four days at Lobos and then headed up Isla Espiritu Santos taking
pictures as we traveled and anchored in Ensenada Grande. We departed Monday, Aug. 8 for Isla San Francisco.
We had dolphins playing in our bow wake for at least a half hour.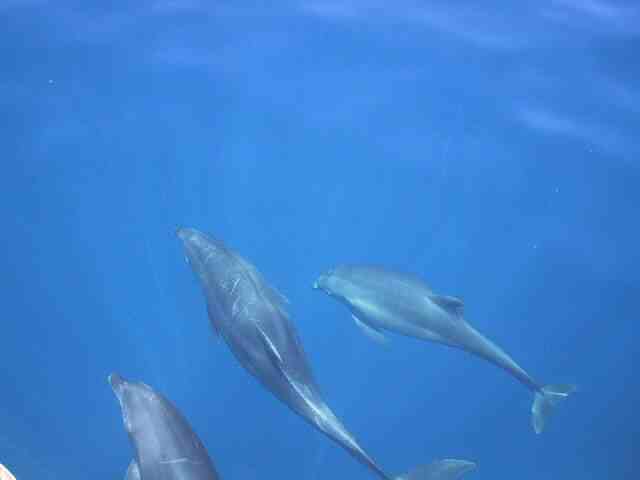 Isla San Francisco, like every other anchorage we have been in is "SO
BEAUTIFUL" it's hard to put it into words.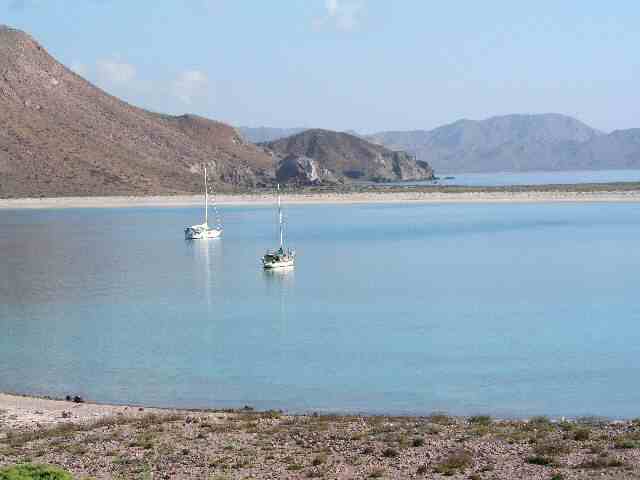 The water is clear, and takes on different shades of blue to deep indigo depending on the depth. We have a gentle breeze that cools us down a bit. This island is small and low. It has a hook that forms a small very protected anchorage on the south west side. Due to our shallow draft, we tucked up close to the inside of the hook. Each day we snorkel from around 2 in the afternoon until 4 or so. Some people like to hit the water in the morning, but we like to do it in the early afternoon, when it's the hottest out. This keeps us cool and fills the "shopping cart" (catch bag). We have been eating a lot of fresh fish, and the triggerfish has fast become out favorite. There are lots of puffer fish and that act tame.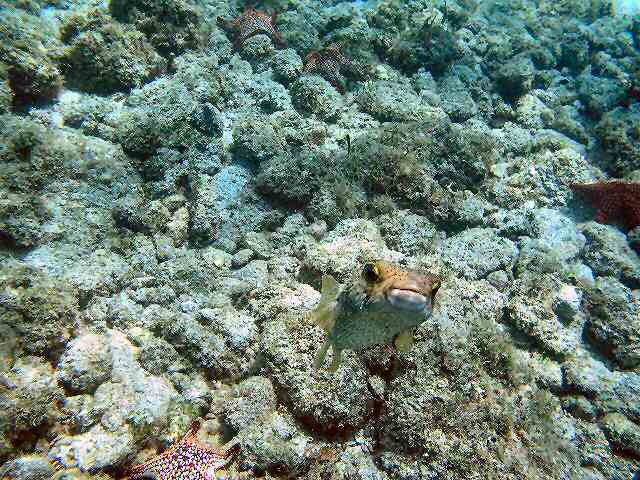 They come up to the boat and watch everything we do. With their big round eyes, we have decided that we will call them puppy fish. We took walks on the beach and climbed the hill to take pictures and enjoy the view. The sunsets are unbelievable. We upped anchor on August 11.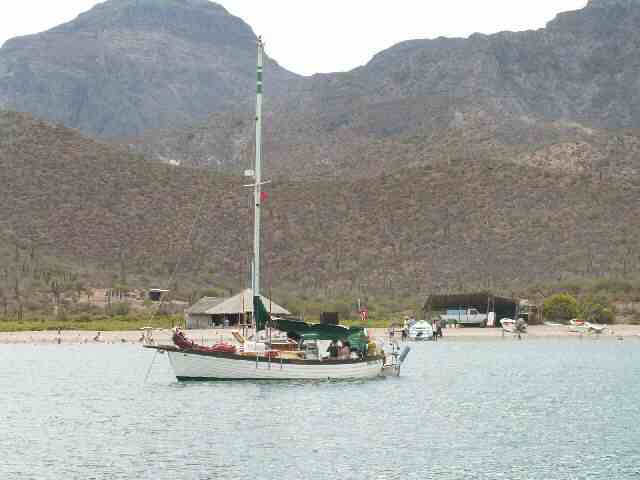 Our next stop was Evaristo, just 2 and half hours away.
What a wonderful experience this is! There is a small fishing village here with about
10 houses. There is also a small "Tienda" or store here. We walked to it, about a mile down a dirt road. We saw cattle and mules along the
way and a very friendly dog adopted us and took us on a tour of the village. We bought a cool drink, but they were out of flour, so they had
no tortillas. They had just a small choice of items for sale that we decided not to buy anything as we really didn't need anything and thought
we should leave what was there for the townspeople. We did some snorkeling and visited with a few local people. Jill has been fighting the
urge to collect shells and rocks but finally gave in. The colors of the hills and mountains have such incredible colors and we are bringing a
few of the colors with us in the form of stones gathered along the beach. We upped anchor on July 14 and motored out. On the way out, I
noticed that the engine did not sound like it normally does. I ducked down and did my normal inspection and found that the forward engine mount bolts had backed off and allowed the engine to drop down out of alignment. Soooo, we motored into Evaristo North anchorage, just a mile further north. I spent the next few hours clearing stuff from the aft cabin and then doing a shaft alignment as I tightened the forward bolts back up. I DO like the "Drive Saver" coupling. It allows you to do an alignment with out removing the bolts! After the work, we just settled down and spent the night. Why not, no hurry!! (BIG GRIN)
We upped anchor from Everisto North on August 12. Next stop, Los Gatos.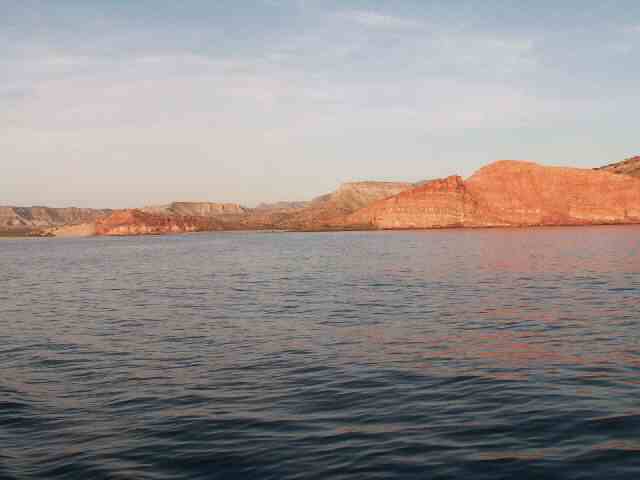 A few people told us that this was there favorite anchorage. Well, NOT OURS! We rolled in the swell ALL NIGHT LONG! We did have a good time on the beach during the day, but by 6 AM we were ready to get out of there. So, at 7 AM, we upped anchor and headed out. Also, at this anchorage Jill seemed to get hundreds of small bites on her legs. We thought it might have been the "No See Ums", but were never sure. It stopped her from going into the water for almost two weeks!! She was not a happy cruiser! Again, the colors are amazing from reds to pinks to peaches and various shades of green. We would love to anchor here again when it is not so rough.
Next stop, Agua Verde (Green Water).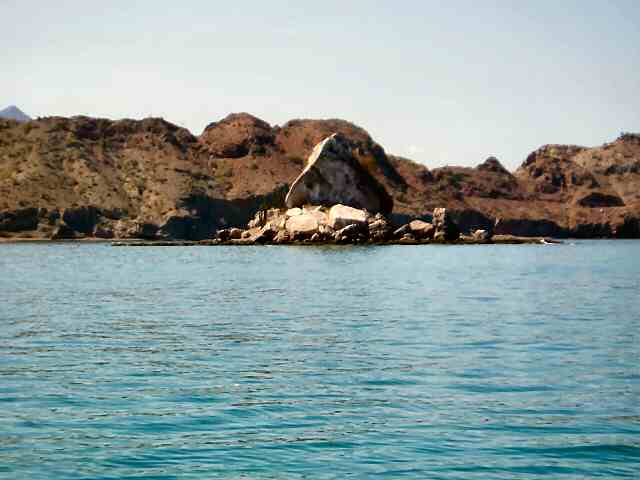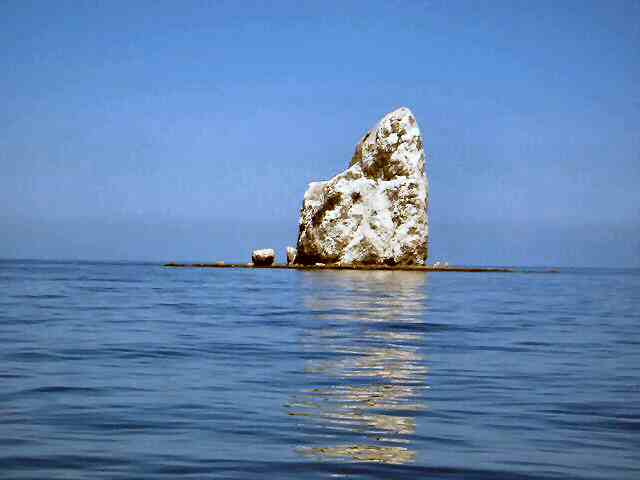 Now this has to be one of our favorite places so far during this trip. The water was clear. The fish and
other seafood were plentiful. And the sights were beautiful! Out in the middle of the bay is a rock formation called "Pyramid Rock" from the
photo you can tell why. We swam every day. We got and ate every seafood delicacies you can think of!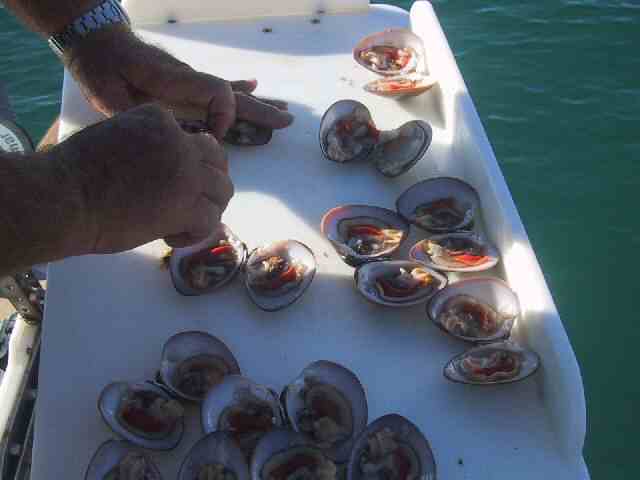 There is a town here that looks like a something you would expect to see in an old west movie. They raise free range goats here. So when you
get up in the morning or sit on deck in the evening there are goats all over the mountains and cliffs. We have seen chickens, pigs and cows
and horses here also. We went into town to the only store (tienda), it's a wooden shack and they sell some fresh veggies, canned goods, TP,
cereal and homemade goat cheese and fresh tortillas.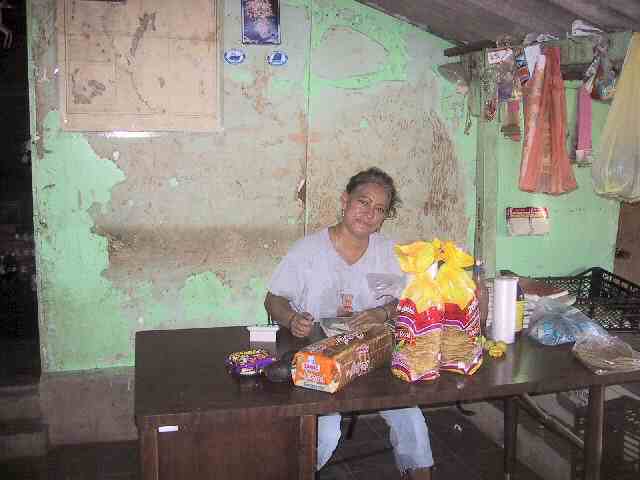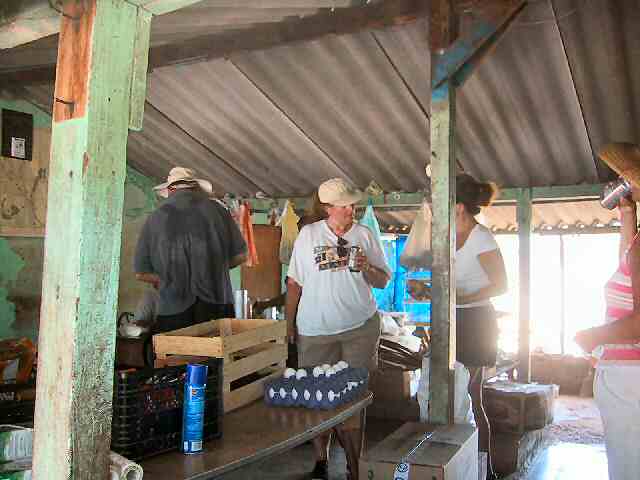 Maria runs the tienda and is very friendly and helpful. The people are all very friendly
but don't speak much English and our Spanish is skimpy but somehow we were able to communicate.
We had a potluck on the beach with several other boaters here and had appetizers on one boat.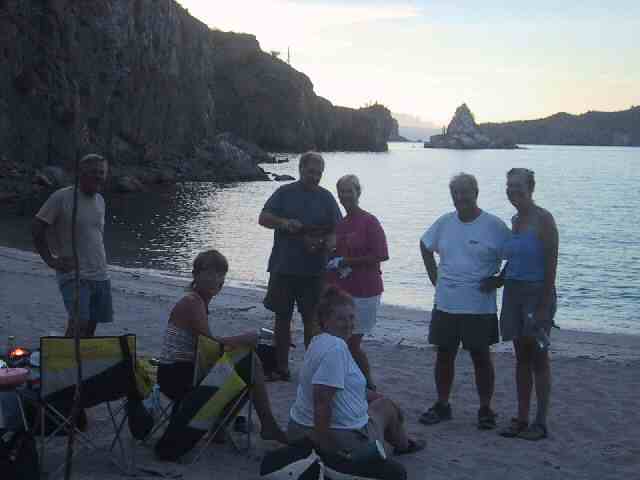 We normally leave the VHF FM radio turned on, and on channel 16, 24/7. We turn the volume down a bit at night, but it does not seem to be
abused here in Mexico, so it's not been a bother after about 9 PM. On the night of August 22, at 4:10 AM, we heard a "MAYDAY, MAYDAY"! Needless to say, we like all the other boats in the anchorage were up and on the radio. In case you don't know-a mayday call is only used for a vessel in distress. It was some one named Roger Klump. He was in a 23 foot Bayliner. He was asking for help. When I talked to him he said his boat was on the rocks! I asked where he was. As it turned out, he did NOT know! He had no charts aboard, no GPS, no fuel remaining, no flares, and NO WATER!! On further questioning, he thought he might be somewhere south of Purto Escondido (a distance of 30 miles). We had a lot of wind and had a very hard time hearing him. One of the other boats who are familiar with the area thought they might have a guess where this boat was. But no one could go out in the dark to help him as it would endanger that vessel as well. How can anyone head out in this water so unprepared? He was very upset and said he had one other man aboard. We, along with other boats talked to him and calmed him down a bit. He kept saying he was so happy to talk to us, he was going to put us in his will, then and there.
The next day at daybreak, one of the sailboats from our anchorage "Two Can Play" went out to look for him. It was a very rough day with high
waves, but they managed to spot him. We relayed his problems and position to the local Mexican Army (they couldn't go after this boat as they
we out of fuel) and on the "Sonrisa" HAM net. The word on the net was passed to the US Coast Guard, who contacted the Mexican Navy. This is where we found out about how far off the US charts of the Sea of Cortez are! Often, our GPS shows us aground, when we are at anchor.
We later found out he was NOT on the rocks, but on a sandy beach. A boat had also departed Escondido to help. For some time, Rodger was asking to please be saved. We heard a radio conversation about 10 AM or so between the boat from Escondido and the Bayliner. He was now asking for a tow, not to just be rescued. The boat from Escondido was not prepared to do a tow (the weather was still very rough), and certainly not one of that distance, as he was afraid of damage to his boat. We all believed that the boat was safer on the sand rather than towed into deep water because no one knew if there had been damage to the boat. We heard that once the sun came up, he could see a few homes not far away! And he finally got some help from local fishermen.
It sure was a long day for us.
The U.S. Coast Guard take these reports very serious, I am happy to say. They required conformation that this boat was ok, before they would cancel the search. Apparently, Roger did not notify them of his situation and on the SSB and Ham nets we heard that they continued to request
status information.
The next day, August 23, we upped anchor and headed for our next stop, Puerto Escondido. Along the way, we saw the Bayliner in a small cove. We could see people on it and called a number of times on channel 16, but got no reply. I guess we are not in his will after all but we did
notify the "nets" of the boats whereabouts. Escondido has to be one of the most protected natural harbors we have ever been in! It is almost
completely surrounded by hills and the entrance is narrow. They have put about 100 mooring balls in here, so we can't just anchor any place. The charge for a mooring ball is 1 peso per foot per day, or about U.S.$ 2.70 per day for us. For that, they provide the mooring, fresh water and a dingy dock. From here you can get a taxi to Loreto (about U.S. $70.00 for the day). In town you can shop for most of the basics and hit the Internet Café (about 6 to 10 Peso per hour or about U.S. $ 0.60 to $ 1.00)
This IS the place to be if bad weather is coming. A lot of cruisers hang around here, or close to here during the hurricane season (August to
the end of November). There are a lot of islands close by that allow us to be within a day's travel from here, but be alone and swing at anchor. We were lucky here and caught a ride to town with three other boaters! We all had a GREAT time shopping all over town for all different
things. We even got "Thrifty Ice Cream"!! We made two trips to town and visited with other local people on and off boats. There is a small
American community here called Juncalito on the beach. It has go to be the most unusual little place. They started with RV's and built open air
palapas around them. They are very friendly to the boaters here. Once you arrive and check into the local net, they immediately invite you to
their homes for a visit and a shower if you want. They will give you fresh water to carry back to your boat and sell you gas for your dingy
for their cost. There have water volley ball every day at 4:30 PM. We didn't play, but stopped by to talk. We joined the Hidden Port Yacht
Club. They have been doing a lot a good works for the local people. Most poor Mexican families only send the boys to school because they have to pay for their children's education and decide they can only send the boys. The Yacht Club pays for the girls to be educated and also help the families send the children for higher education. They have built a school for the children because transportation is difficult between the
homes and school. It is a very humble school and they are always looking for funds so if any one wants to help them out, contact the Hidden Port Yacht Club in Puerto Escondido, Baja Sur, Mexico.
From here we went out to a small cove called Puerto Ballandra on Isla Carmen. Another great place that is very secure and beautiful. We
snorkeled, collected shells and rocks and fished. We had pupus and movie night aboard another boat. We spent a few days there, then on to Isla Coronados. As we approached the anchorage, we saw a whale calmly swimming along. At Isla Coronados, we saw what looked like a dark patch under the water that had Manta Ray's jumping every so often. We then noticed that the dark patch was moving! Greg jumped in the dink and powered over the dark spot as fast as he could. Once he put on a mask and looked over the side, he found at least 1,000 Rays swimming in close formation! What a sight!!! While snorkeling here, Greg found a large turtle shell under water. We picked it up and took pictures of it but decided not to keep it as the authorities might think we had killed the turtle. We only stayed at Coronados for two days. We were swarmed by Bees! And, we think that some of them were the African ones. Greg was stung twice, without provoking them. Then he dove overboard for a half hour. Jill discovered that Greg doesn't have a very good batting arm. Three times he swatted bees on to my exposed limbs where they promptly stung me.
From Coronados, we went to another magical place! It is called La Lancha. What a stunning anchorage this is. It's small, about the size for
two or three boats. It has a "window" rock formation, a white sand beach and blue, blue water. We had a lovely breeze here. We took our dink to a place called "V" cove. "V" cove has a cave big enough for us to take our dink inside! There was also a LOT of sea food in this area. Greg speared the biggest fish he has gotten so far. It's called a "Giant Hawkfish". He was one good meal for us!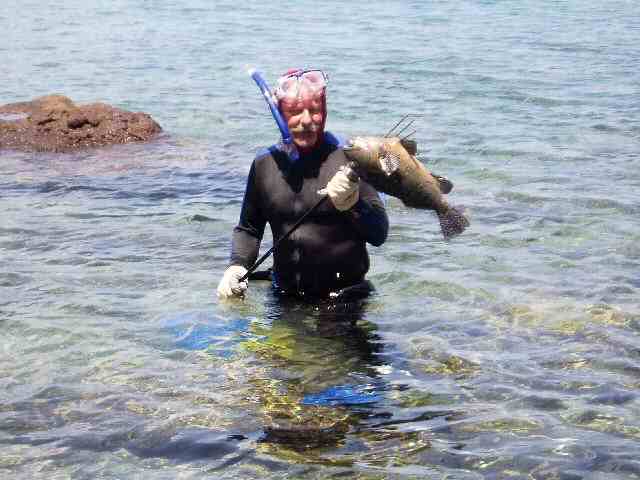 We departed on Sept. 4 on our way to Honeymoon Cove on Donzante Island. The anchorage is pretty small and was not very secure for us today, so we went on back to Puerto Escondido. We walked up the road about a mile to a trailer park that has a restaurant, and had dinner (wow! The first one I haven't had to cook since we left La Paz) with a few cruisers.
Sept. 10, we headed out for Bahia Marquer on Isla Carmen. It is a nice anchorage and we saw three dolphins waiting for us in the cove, but as
we were about to drop the anchor, we were visited by bees again. We left the anchorage and went back to Ballandra. The bees appeared here as well. I guess as the area gets hotter and more humid, the bees seek out water on the boats that anchor on the islands. We stayed overnight
and then headed for an anchorage on the land side to see if we could find a place without bees. We anchored just north of Puerto Escondido in
a little cove called by the cruisers "8:30 cove". So named because the sun doesn't come up over the hills until, you guessed it, 8:30. We
called it 9:00 cove. We have a lot of rays jumping here and all day and evening you hear plop, plop as they belly flop into the water.
This had been an unbelievable trip. The down side is that it has been very humid. They tell me that this is an unusual year for weather. It
is usually a dry heat like you would expect to find in the desert.
At this point I might let you know what a typical day is like for us. That is, at anchor.
We normally get up some time between 7 and 7:30 AM. If Greg gets up before 7 Am, he heads out and does some fishing from the dink. At about 7:30, we put the coffee on and turn on the HAM radio and listen to the Sonrisa net. From that we get the general weather up and down the inside of the Baja from Gary, in El Burro cove. He has a radio and internet connection. Then around 8 AM we turn on the Amigo SSB net. From this net we get a fantastic weather report from Don on Summer Passage. He is an amateur and reminds us of this each day before he gives the weather report, but has gotten it correct EVERY time we have listened to him! Can you tell we live by the weather here. After the radio nets, we pick up our email, also by the HAM radio. About this time Jill has made breakfast. By now, it's about 10 AM and we do a boat project or two. This can be making water, cleaning a storage locker, or fixing something that may be broken, washing clothes. It's then about time for lunch and a nap. This cruising is hard work you know? GRIN
About 2 or so, we head into the water snorkeling. If Greg caught fish before 7:30, he takes the underwater camera.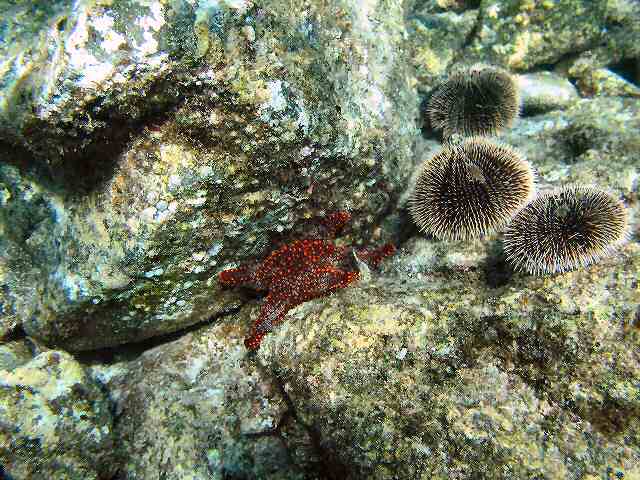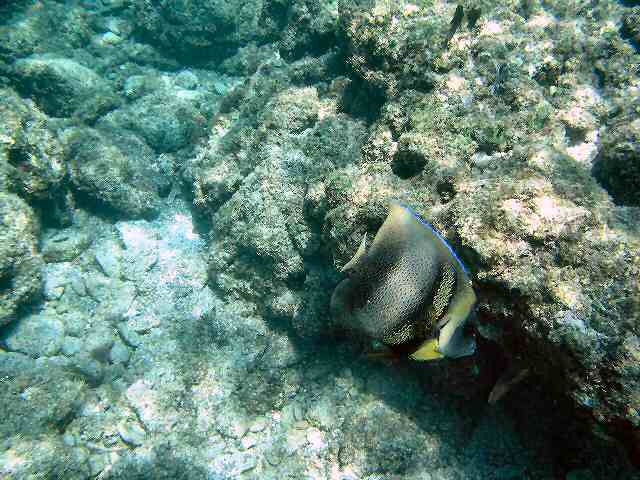 If not, he takes the pole
spear and catch bag. By about 4:30 PM or so, it's fish cleaning time, then dinner. Often, after that we get together with another boat for a
"Sundowner" and chat. Or a movie (DVD on the computer). Then we watch the stars until it's time to close our eyes. We have lots of time to
read that pile of books we brought from home where we never had time to read them. That's about how our days have been going now that we are out of the marinas.
Now to get back to our travels, we took a two day road trip up the Baja to visit Santa Rosalia and Mulege. We will not have time to sail up
this far before we need to be back in La Paz. We stayed over night in Santa Rosalia and enjoyed air conditioning for the first time in a long
time. It was heavenly. Here in the Sea this year it has been unusually humid and we spend days at a time with our bodies damp. We get out of
the water and try to dry off but begin to perspire immediately. In Santa Rosalia, we had the best hot dog ever! It was a hot dog wrapped in bacon and fried in bacon fat served on a slightly sweet bun with onions, mustard, ketchup, crema, and salsa.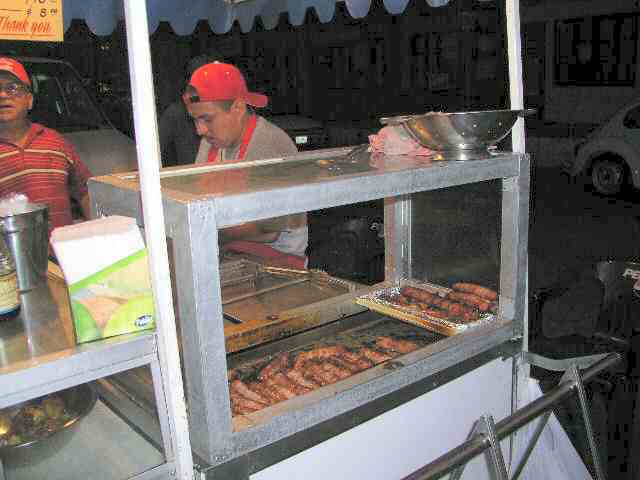 This little cart sales about 1000 of these each night and he doesn't open until 7:00 P.M. He parks right across the street from the church. This town at one time had a very strong French presents here. The church was designed by Carl Gustaf Eiffel.
It was displayed along with the Eiffel Tower at the Paris Exposition in 1889, then taken apart and reassembled in Santa Rosalia. It is very different looking and after all this time, it still looks very modern.
The town of Mulege looks like an oasis. It has lots of palm trees and is very green. It has a river that runs to the sea. Greg thinks we can
get our boat into the mouth of the river. Next year we will see.
As of this writing, we just got back into Escondido, from an overnight trip to Candeleros Chico, and picked up a mooring. The one we are on is
designed for a 60 foot boat. That makes us feel secure. Today is October 1, and we are sitting here all buttoned up waiting for Hurricane Otis
to go by us. It is supposed to go by on the outside (Pacific side) of the Baja, but one never knows! So, wish us luck, and check back to see
if we are still here day after tomorrow.
Greg & Jill