Position Report April 27, 2008
Hello from La Paz, Baja Sur. We are back aboard and enjoying it A LOT!

Last November, we went to the local travel agent in town and got airline tickets to visit 2 of our sons in Phoenix Az. As it turned out, due to a credit we had with one airline, our tickets were from La Paz to Tijuana, then from San Diego to Phoenix, then back by the same route. Our bags must have been glowing by the time we passed through all the xrays. Just on the out bound leg to Arizona, our bags were cooked 5 times!

All went well and we had a fine time with the boys. Then we said our good-by and headed back. We did fine in the US. We stopped for a night in San Diego and got a cab back to the TJ airport. We went through the baggage check (yes, they do that in Mexico also) and got up to the counter. At that point, we were told that our tickets had been canceled! We were shocked. We had flown with these tickets and had already cleared into the airport using our tickets. Since we were not leaving the counter with no other explanation, we were told that our first half of the tickets had also been canceled and they were very confused that we had been able to use them. We were finally told, after much prompting that our travel agency had not paid for the tickets! We had no choice but to go to the business office and purchase new one-way tickets.
The day after our arrival in La Paz, we went back to the agent who sold us the tickets and explained the problem. We were told that she would go to the airline and find out what went wrong. Lucky, I had the agent in TJ write a note ON our original eticket printout stating it was no good. After 2 days, our agent in La Paz, said she was getting us our refund. Then, for almost 2 weeks we found we could not contact her! Mind you, this is a well established travel agent in town. Finally, we decided to contact PROFECO. PROFECO is an arm of the government and is a consumer protection agency.
We came into the office of Profeco and found they had no one there that could speak English. No problema! They quickly got one the phone and found someone to speak to us in English. They made an appointment for 10:00 the next morning at which time they would have an interpreter there for us. They are VERY business like and had an English speaking lawyer come in just to take our statement. This Wednesday we have an appointment with them (and the agency owner) to make things correct. We will let you know how it all works out.
One of the great things about the way we cruise (SLOWLY) is the wonderful things we get to see that the casual visitor misses.
Since we got back to La Paz from our state side visit. we have had a series of fun adventures!
The very day we got back there was a sand sculpture contest on the beach! Take a look at this: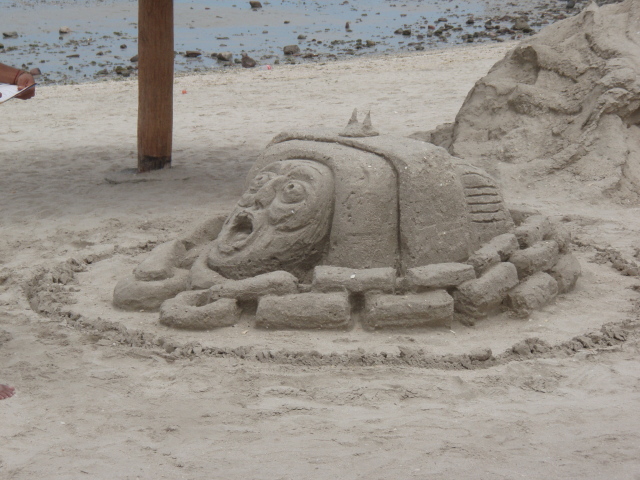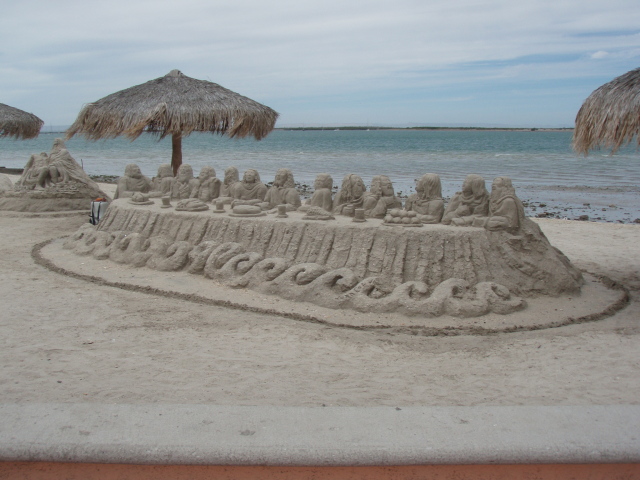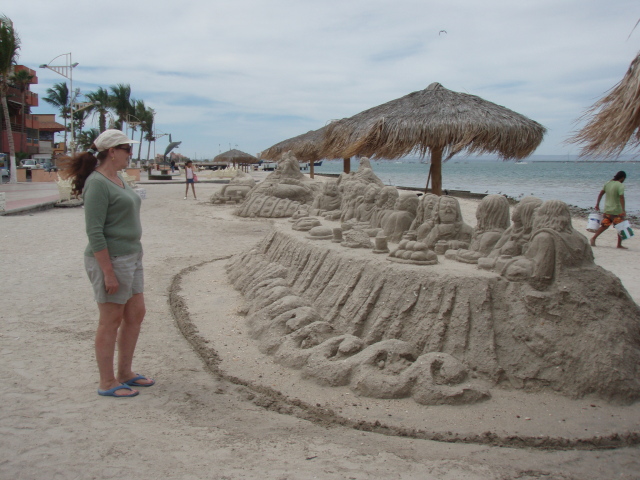 Two weeks ago we were invited to the opening of a new bar in town. It's a "roadhouse" and people can ride their motorcycles in to the place and park them next to their table! There is to ceiling so no fumes. What fun it was. Did I mention it was free beer during the opening? AND, they had live Chicago Blues music, (at Mexican volume!).
We went to see a new show in town by a Cuban group. Complete with wonderful (LOUD) music, dancing, and costumes.
Then a couple of days ago we accepted an invite to take a ride in the desert. We went to a place that does not seem to be well known! In the past we have seen petroglyphs from 1,500 BC. We saw "cave paintings" that no one knows the age of, we even got to pet baby whales.
But this, the Glowman, was something to see! As the sun moved across the sky, the figure seemed to change! It was very strange to see this figure. It's hard to tell from this photo, but the rock face it is painted on, if far from flat! Looking from way at the side, it's hard to see how it was ever painted to look like it does. It was just plane spooky standing there in the quiet of the desert looking at this.
After seeing the Glowman, we went up to an oasis on a private ranchero (has a locked gate but our friend knows the family there) and got to dip our toes in cool mountain water with a gentle breeze flowing over us. Had a great talk among the 6 of us about the world in general. WHAT A DAY!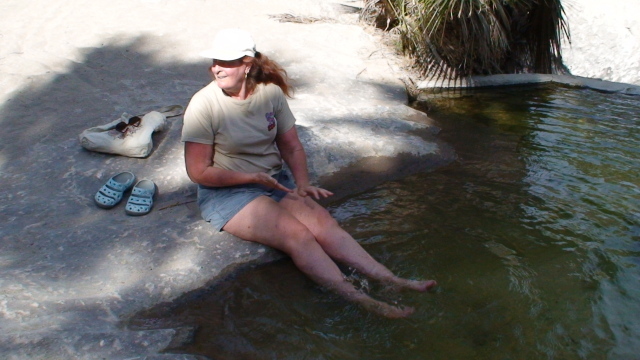 Last year before we went up into the Sea of Cortez, Good Old Boat magazine asked us if we would be interested in submitting an article about making DVDs. We wrote up how we approached it, and how we would advise others to go about it. Once we were back to an area with unlimited WiFi access, we sent the article along to them.
We are happy to report that they have decided to publish what we wrote! So, in the next issue (May/June 2008) you can read what we submitted.
As long as we are talking about DVDs, and along with that article, we would like to announce that we finished 2 more DVDs.
One is, "Guenevere's Middle Sea of Cortez Summer". It picks up where our first Sea of Cortez DVD stops, in the Puerto Escondido area and follows our trip north to the Bay of Los Angeles. We sit out another hurricane and have some fun shore trips.
The second DVD is "Guenevere's Galley, Pressure Cooking". We think you can guess what that's about. What started us thinking about making a video about our pressure cooker is the large number of people we kept meeting that never seemed to use the pressure cooker they had on board. At one swap meet, we saw a nice cooker sell for US$ 0.50!
You can see info about the new DVDs on our WEB site and watch the short promo for each one if you are interested.
We are happy to say that Eileen Quinn has allowed us to use some of her music in both of our new videos. If you have not heard her music, go to her web site and listen to some of the samples. She is GREAT!
We are getting ready to head over to the Mexico mainland and will miss the Baja and the Sea of Cortez very much. Maybe we will return some day...
That's about it for now.
Greg & Jill