Position Report June 8, 2008
First, let's update our Profeco and travel agency problem we are having. Before we departed La Paz, we had our first meeting with Profeco. The
meeting was supposed to be with a Profeco agent, us, and a rep from the travel agency. As it turned out, the rep from the travel agency did not show up. So, Profeco fined the agency almost the amount that we were asking for. The fine is sent to a be collected by what is like the IRS in the USA. So I don't think they can get out of paying it. But no joy for us! Then we were told they had a second chance so another meeting was set up for May 29.

We told the Profeco people that we wanted to see more of Mexico and wanted to go to Mazatlan for some time. They told us "no problem" and
gave us the address of the Profeco office in Mazatlan.

We talked it over for some time to try to decide if it was worth it to stay for another (and may be 2 more) meeting in La Paz, or just head out.

We arrived in Mazatlan in the morning on May 21, at Marina Mazatlan.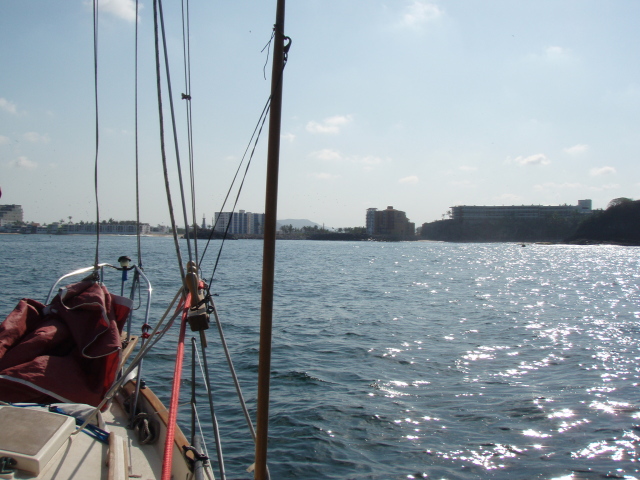 Can you see the entrance? It took us some time to find it!

We departed La Paz on Monday May 17 and anchored at Lobos. We had it all to ourselves. It was a lovely cool evening. Sunday we departed
early. We sailed with light winds for awhile and then the wind shifted around and we motor sailed into it. We were about in the middle of the
Cerralvo channel when the tide changed and it got a bit lumpy for awhile. Just as we were about to pull in the fishing line to get ready to anchor, we got a strike! We pulled in a nice sized Mexican Tunny. We had to just drop him in (half way) a bucket on the side deck until we
got the anchor set.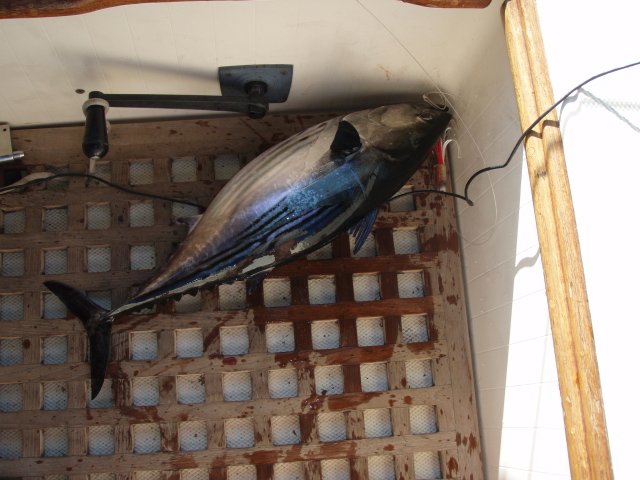 We anchored in Muertos with Sweet Lorraine and Aegean Odyssey (both heading to La Paz). Jill cooked up some fine Tunny steaks for dinner.

We discovered that our SSB is acting strange. We turn it on and it doesn't work, next time we turn it on, it works. Don (From Summer Passage) does the weather and he was predicting10-15 knots of wind. Cool! We get to do some sailing. We left Mon. at 12 noon.

We were a little more than a quarter of the way when Don revised his weather. There was, as you probably know a BIG system brewing that is
to reach from San Francisco to Cabo causing a wraparound into the sea. There was another system down south. Both due to arrive with us in the
middle. We decided to motorsail and not guess what was due to hit the sea by Wednesday night. As we were in calm weather, Jill baked a loaf
of Sourdough bread and made a large meatloaf with some of that Tuni.

In spite of the motor running, we had a nice trip. Long slow rollers, cool breezes and a full moon. We even had a mid sea shopping experience when a shrimper offered us some of his catch.



A view as he was departing.

We saw 1 sailboat in the distance heading for Cabo, 1 ferry, and two work boats. We had a 10 minute dolphin show with an in air act. I saw two falling stars on the same evening one on each side of the boat.

On Wednesday evening (May 21) from in the marina, we can't feel any weather issues. It is a comfortable 85. We walked around a bit and are
real excited to begin exploring tomorrow.

The official start of the Hurricane season is June 1. So for this year, instead of heading up into the Sea of Cortez and dodging them, we plan to stay here in Marina Mazatlan. We are tucked way back into a small corner of the harbor and should be safe. So, from now until the end of October, it's inland exploring for us.

The cruisers hear have been very helpful with advise on the local area. They have been very generous with their time and autos and have taken us to movies, theater, Home Depot, dinner, etc. Some of the advise was that in order to survive the summer here, we would need an air conditioner, so now we have one. I bet at the end of summer there are lots of air conditioners for sale cheap.

Now, back to our Profeco issue. We attended our meeting, here in Mazatlan, at the appointed time. Turns out we had to make the call over to La Paz. NOTHING seems to turn out like expected. The travel agency did not show up, as we expected. BUT, not expected, they send Profeco a letter. It stated that they were ready to pay us the money due us. All we had to do is show up on Monday at the agency in La Paz.
Haaaaaa.

We got a "power of attorney", filled it out and sent it to a friend in La Paz. As I said, Profeco is very professional. They even set up another meeting in case we don't get the money. If the money is not paid on Monday, they get another fine.

We are having a good time in Mazatlan! Transportation here is the best we have seen in Mexico. It's a bit over 12 miles from one side of the
town, where we are at Marina Mazatlan) and the other end. This end is the "Gold Zone". You know, the tourist end with big hotels and stuff.
The other end is where the local flavor is. The old area is also where all the art and music is centered.

Transportation includes:

The white buses. There are about a hundred of them! They are about US$0.50 cents for as far as they go. They are somewhat old and rickety, but OK There are many routes, so you can get almost every place in town!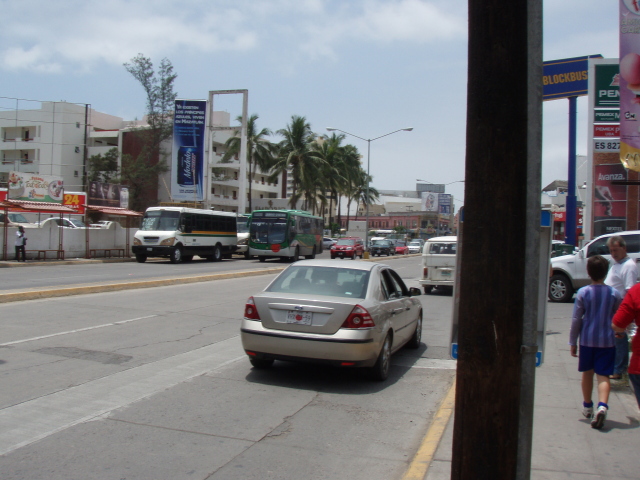 The Green buses. Nice big air conditioned very comfortable buses. They are about US$0.80 for as far as you want to go. There are only 2 or 3
routes, but take you to the important places, like the opera house and shopping in both the new area and the old.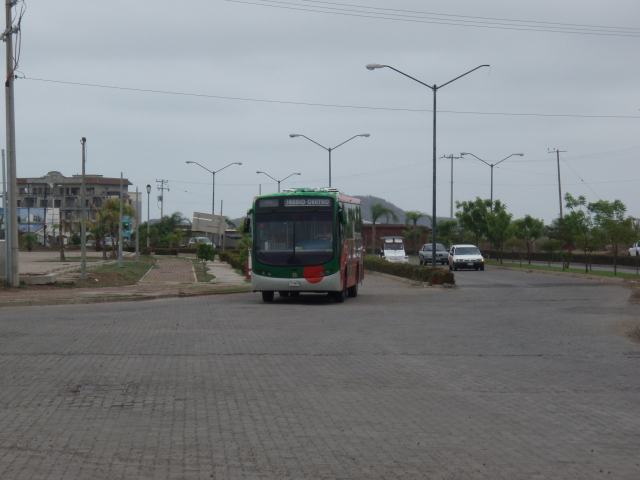 We need to add here that there are MANY of each bus! They go by every few minutes! Unlike in the USA, they are not exactly on a schedule.
BUT, the good side of this is that the drivers get a commission for each payed passenger. It is VERY rare when you don't get a bus!

After the buses, there are the Pulmineas, They look like sort of a cross between a gulf cart and a Jeep. Nice open rides. They are everywhere. Price is "as negotiated", but generally runs from US$3.00 to $5.00 from any market back here to our marina. If you need a ride, just pull out a colored piece of paper that looks like a map and look like you are fresh off the boat, You will have a least 5 of them approaching from all sides!



And of course, they do have a batch of cab companies for when you need a ride at a specific time. Like to go to the airport.

So far, during our first 2 weeks in Mazatlan. We have:
Been to two large grocery stores and Home Depot.
Been out for dinner with friends about 5 times.
Been to two "Pot Lucks"
Been to the Opera.
Installed a small air conditioner.
Walked the Malacon (sea side walkway with art), well, part of it as
it's almost 12 miles long!

By the way, this marina has some fine services. Louis the barber just stopped by to give at the boat haircuts. A fruit and veggie truck stops by one or twice a week during fall season for boat deliveries. A manicurist has come to the marina and also the lady who makes lycra suits came directly to the marina to take measurements. They deliver RO water to the boat for about US$2.00 for 5 gallons.

That's it for now, we are off to explore more of the area!

Greg & Jill