We just had an appointment with Greg's surgeon. A second blood sample was taken on Sunday and We got good news at the appointment.
As of now the 2 samples taken since my surgery had been read and my PSA was "not detectable". That's a GOOD thing!
I still need to have a sample taken every 3 months (2 more times). If it's is still "undetectable", I will then need to have a sample taken twice a year for a couple of years, then yearly. SO, with luck, we should be able to get back to some sailing
We have just ordered a new trailer to be able to tow Guenevere to new (to us) places. We are starting to carve some smoke into general plans. But nothing firm yet.
As long as we were celebrating, we made a trip up to V. Sattui Winery.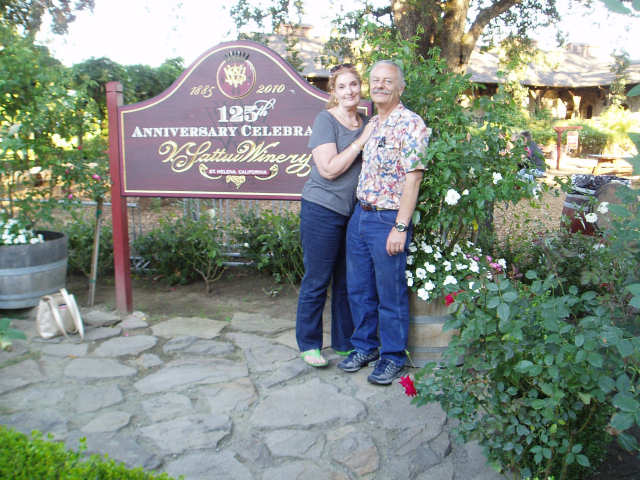 Sattui is a winery that we started to visit back in the 70's. At the time no more than 6 people could belly up to the tasting bar at a time. Now the place is BIG! They also do NOT sell to stores so about the only place to get the wines is at the winery!
We LOVE the wine, but it's NOT the ONLY reason to visit the place. They also have a GREAT deli. It's not unusual to find Yack cheese next to fine Munster, and over a couple of steps, you can find some fine Prosciutto and smooth creamy pate. They have picnic tables on a large lawn and have packets with plates, glasses, and items needed for a short picnic! We had a WONDERFUL lunch!
A reminder....
What are the key statistics about prostate cancer?
Other than skin cancer, prostate cancer is the most common cancer in American men. The latest American Cancer Society estimates for prostate cancer in the United States are for 2010:
About 217,730 new cases of prostate cancer will be diagnosed
About 32,050 men will die of prostate cancer
About 1 man in 6 will be diagnosed with prostate cancer during his lifetime. More than 2 million men in the United States who have been diagnosed with prostate cancer at some point are still alive today.
Prostate cancer is the second leading cause of cancer death in American men, behind only lung cancer. About 1 man in 35 will die of prostate cancer.
Last Medical Review: 11/22/2010
Last Revised: 11/22/2010
Found
HERE
THANKS for reading this. If you are, we consider you a friend, and, did I say: "If you are a guy reading this, GO GET A PSA TEST."