---
---
---
Information on S/V Guenevere
our Nor'Sea 27





We chose this location because it's close to where I work, and still on the bay. I worked for a major aerospace company and expected to retire in a few years.

We are taking the time before we retired to prepare the boat and ourselves to take the big jump into cruising.

First, we installed a Monitor wind vane (a MUST for short-handed cruising) and did a number of other things to make sail handling a bit less stressful.
Then we found a leak in our fuel tank. Shortly after that the old engine was showing signs of water in the oil every time it ran. So, we replaced the fuel tank and put in a new Yanmar 2GM20. All of this was a LOT of work!!!
We then completed a year of electrical work. The plan was to replace the power generation system with a higher output alternator system. We have rewired a new circuit breaker panel. Installed a three step alternator controller, solar panels, energy monitor, radar and a few other items. We have finished a lot of our goals.
Later in 2002, new rigging and a mast rebuild, (turned out to be a mast replacement). The next year, new sails and other hardware.
Then a year of sea trials and catch up on anything not yet done.
We plan to make one BIG hit on the local marine store just before we go. Life raft, water maker (one big one for the boat and one small one for the raft), 406 EPIRB Etc., Etc., Etc....

We planned this for a time we know the store has a big sale each year.
Then we departed at the proper time for the destination of our choice. I say it in this manner as we have not made firm plans beyond:
"Go south till the butter melts, and stay there"

Well, we sort of plan on south and west.

Guenevere is a 1978 Nor'Sea 27.
Just in case you don't have the specs on a Nor'Sea they are:
LOA 27' on deck, 31' with sprit
LWL 25'
Beam 8' 0" (Trailer legal in ALL states)
Draft 3' 10"
Ballast 3,100 lb. internal lead
Sail Area 394 Sq. Ft. working sails
Head Room 6' 1"
Displacement 8100 BLS. (empty)
Freshwater 40 Gal. In two tanks
Fuel apx. 25 Gal. In one tank. This gives her a range of between 300 and 500 miles under power.


First, something over 400 Nor'Seas have been built. The factory is still in business and producing a limited number of craft per year. They come in an Aft Cabin model and an Aft Cockpit model. I also believe they come in any stage of
completion, (for the home builder). I have heard that by far the aft cabin model is the most popular and most common. The main cabin has two versions. The original version has a V birth that extends up to the anchor locker, with the nav station seat back as the foam piece your head uses when the berth is made up. You can see a plan view of this at the NorCal Nor'Sea web site by selecting the "older ones" on the first page of there site. The, by the way is the cabin arrangement we have. The newer version has the main cabin table lower on the compression post to form the center of the berth.

The Nor'Sea is a lapstrake hull made of molded fiberglass (or glass reinforced plastic GRP as some would call it). This lapstrake adds more than just salty looks to her. It allows the hull to be more ridged and stronger per pound than a smooth surface hull. Also, the laps tend to deflect the water back away and down from the hull. This last feature tends to keep her dry in all but very large seas. The rounded canoe stern provides a roomy aft cabin that sleeps two adults.

The lead ballast is molded into the hull. No keel bolts to worry about. The 3 foot 6 inch to 3'10" inch draft lets us snuggle up into nice coves other (deeper draft) boats can not reach.

On the inside, you are hard pressed to see any fiberglass at all! The main cabin sides and overhead all have ceilings of varnished pine. The cabin sole is teak and holly. All cabinetry is teak, as are the main and aft cabin hatches. All of this loveliness plus 6 ft standing head room.


Guenevere Specific Information
On many a cold winters night friends have sought refuge at our table enjoying the warmth from our fireplace/cabin heater while partaking of a hot buttered rum.

We currently have tanbark sails. You can most likely see them in a few of the pictures in out photo album. The main has three sets of reef points. The jib has one set of reef points and works VERY well. The boat was designed to have you take the first reef when the wind pipes up above about 15 knots. This seems like it would be early by some standards, but it's just right for my wife and I. I don't know about you, but it's a lot nicer working on the for deck before it gets too rowdy up there!

Head and Shower
One of the first things Jill said to me when we went looking for a boat was that it MUST BE SAFE. Second it MUST have an enclosed head. Somehow I just could not convince her that it was salty to use a pot under the V birth. Guenevere has an enclosed head at the foot of the main companion way on the port side. If you looked at the floor plan picture mentioned above, you can see it's not large. But it is adequate and does work! We have a 6 Gal. hot water heater that feeds the shower and works off of 110V AC at dockside or, when the Yanmar diesel is running the engine cooling water can be run through the heat exchanger and heat the water. A hot shower anytime needed. By the way I have to mention that we also have four solar showers abroad for when the sun is out, we are in one of those secluded anchorage's with no one within a hundred miles. They work GREAT.

Galley
We have what must be considered the minimal galley. It's on the Stbd side just down the main ladder. First is our two burner Orego 4000 alcohol cook top. With storage under. I have to brag about Jill here. She has turned out wonders on this cooker! One week she cooked a black forest cake, two loves of bread and a number of other wonders, ALL with NO oven! Next up is a double stainless. We have a pressure water spigot the same as in any home. Plus a foot pump for fresh water when we do not run the pressure pump. We also have a provision for sea water. At sea we wash in sea water and rinse with fresh water to conserve fresh. Next up is what I would consider the weakest system on the boat. The ice box. It has a top opening and an opening front door. The insulation is completely inadequate for anything longer than a weekend. A number of Nor'Sea owners have upgraded this. Check out the Nor Cal Nor'Sea site to see how they did the upgrade. You can also look at our projects page for how we are upgrading ours. Behind the cook top and sink are cubbys for dishes, bowls, cups, drawers for stuff, Etc

Fireplace
Next up on the starboard side is the fireplace and drying locker. The fireplace is also a heater. Any time it's cool out, this is is a GREAT comfort to us! It's mounted in front of a small locker that has a door that opens over the top of the ice box. Below the fireplace is another locker.

Nav Station
Just forward of the heater is the nav station. For a 27 foot boat, this is a GREAT nav station. The top of the table is slanted like a drafting table and folds out so it will fit a standard BBA size chart without folding it. We also have the VHF and radio equipment. Under the table top, is a locker that holds a lot of our nav equipment, sextant, tables, and other needed items. The seat used for the nav station is the starboard part of the forward (aft facing) seat. The back rest of this seat folds down to become the area of the V birth that our head and sholders rest on when the V birth bunk is made up.

V Birth
We find the V Birth is a cozy place to sleep. As was said above the backrest of the cabin seat folds down, then the backrest cushon sets back on it and this makes for a large size bunk for the two of us. Forward of the bunk is the anchor locker. We also have storage cubbies on each side or the area to hold small items.


Ports
ALL of our ports open! There are 7 in the forward cabin, and 3 in the aft cabin.



Unique items aboard Guenevere
1. our lifeline stantions are unique. At first we thought that all Nor'Seas came with stations that were the same as ours. We found out at a cruise-in that 8 Nor'Seas
attended that ours are different.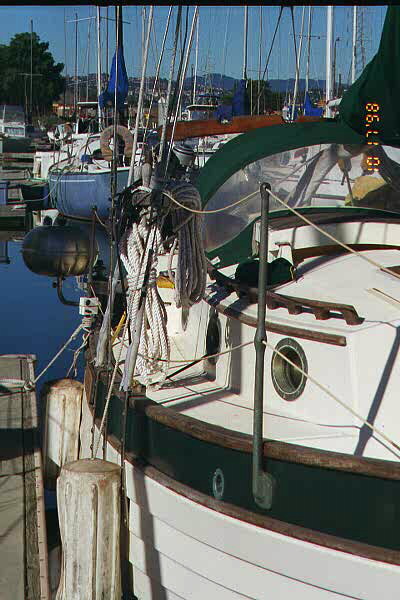 2. we had a fitting made up that allows us to use our Monitor wind vane OR our autopilot on the tiller. You might like to consider something like this on your boat.
| | | |
| --- | --- | --- |
| Fitting on tiller | Monitor control connected | Autopilot attached |
3. Our cabin knees are teak covered. We found that most Nor'Seas came with a cloth or carpet cover on them.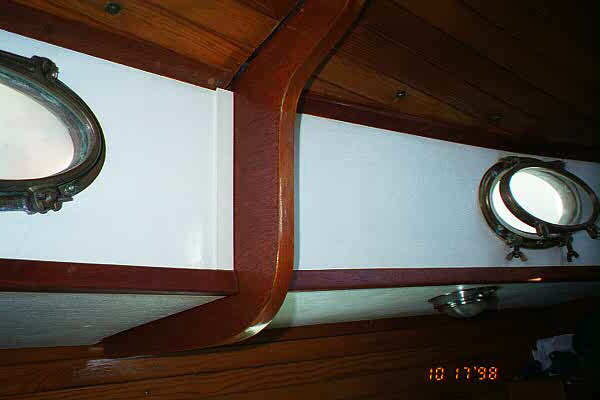 4. Our cockpit teak grate moves up and forms the base for our cushions in the cockpit. This is GREAT when the weather is HOT AND HUMID.
| | |
| --- | --- |
| Grate in down position | Grate in up position |
5. We have installed a "SpinLock" throttel/transmission control. This uses a standard winch handle. We put it in when we are going to use the motor, then remove it when not using the motor. This clears up a lot of space in the cockpit.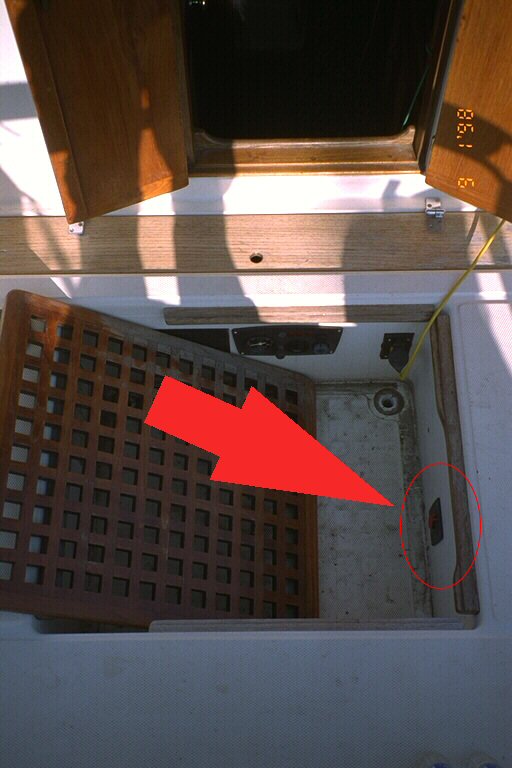 "SpinLock" throttel/transmission control
6. We have modified our cabin lights so you push the switch forward for red, center for off and aft for white light. This uses super bright red LEDs that can all run for days without touching the battery!
If you have any questions, You can reach us by E-Mail at
delezynski@yahoo.com
Greg & Jill Delezynski
S/V Guenevere
Hull #80