Hi all,
This is our 2-year gear report. Yes, we have been out, cruising, for two years! We departed our slip (the last permanent one we had), on September 15, 2004.
We have stayed in a slip in Marina de La Paz for a few months! With a small boat, why not?
We will try to make this gear report short, like last years, and like last year, just include the items aboard that we think anyone who may be going to cruise would be interested in. We will try to take it from bow to stern. If you read this and have any questions, just send us an email and I will try to get back to you.
What I said last year was, "She has done us proud in EVERY respect! We have not come in to one port that we did not get Ohhhsssss and ahhhhhssss! And she has taken all the punishment that day-to-day life at sea has dished out to her. She is a very fine and meticulously put together, high quality boat capable of far more than we can take! She has really taken good care of us!" AND it still holds true today! If anything, I am happier now than last year, if that can be?
The anchor windlass.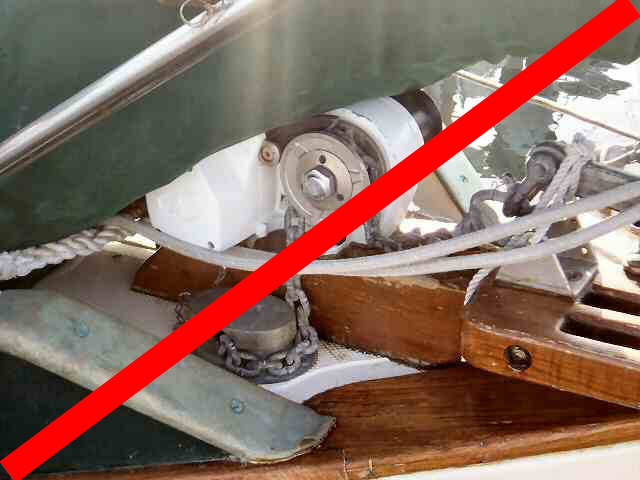 We HAD a Sampson Lowrance 600 GD electric.
Shortly after we did last years report, the windlass STOPPED pulling the anchor up. Last time I checked, that was the only reason for a windlass.
The symptoms were that the anchor would fall just fine, but would not come up. Also, the circuit breaker would NOT pop. That is, the windlass was not overloaded.
I wound up troubleshooting by opening the anchor locker, cutting the power leads and going directly to a small motorcycle type battery. It still did not work.
I called the support line and the first thing the guy said was that I must have overstressed it. NOT ONCE did I leave the anchor set without the manual stop set. I NEVER allowed the boat to ride to the anchor just on the windlass!
As it turned out, inside the unit is a roller bearing that only spins one direction. I did not know they made such a thing! That bearing had gone bad. The design is that this is what stops the anchor from falling until the switch is made. In my opinion, this is very poor engineering!
I once again called, and you cannot purchase just that bearing. Naturally, you have to get the kit with ALL of the unit's bearings. And oh, by the way, that bearing MUST be pressed in and out. And, it MUST be pressed in the correct way!
The outcome is, we were trying to go out and it was faster, better and cheaper to just replace the windlass! So, that is what we did. We now have a Lewmar Pro-Series H700.
When I talked to Sampson Lowrance, I was told that they no longer sell windlass. I said I was happy that Lewmar bought them out. I was informed that it was the other way around and that the Lewmar name was kept because it was better thought of!
We have been using the new windlass now since March of this year so I cannot give you any details yet. BUT, It is my feeling that a lot of the makers of marine equipment (NOT just Sampson Lowerance and Lewmar) feel that if they are designing items for boats under 50 or 60 feet, they only need to design for weekend users. I expect that the Lowrance windlass would have worked for a long time under only weekend use. This is something to consider if you are planning to head out in a smaller boat.

Deck box / Wash down pump/speakers/dashboard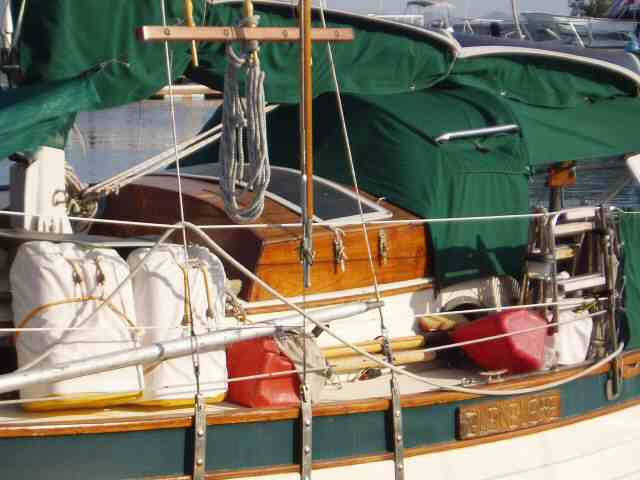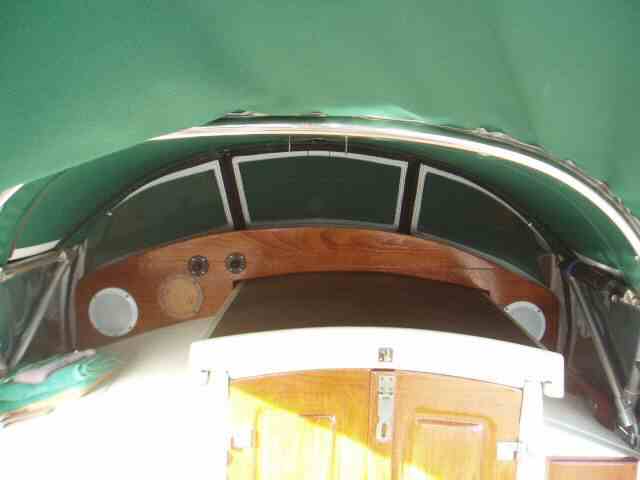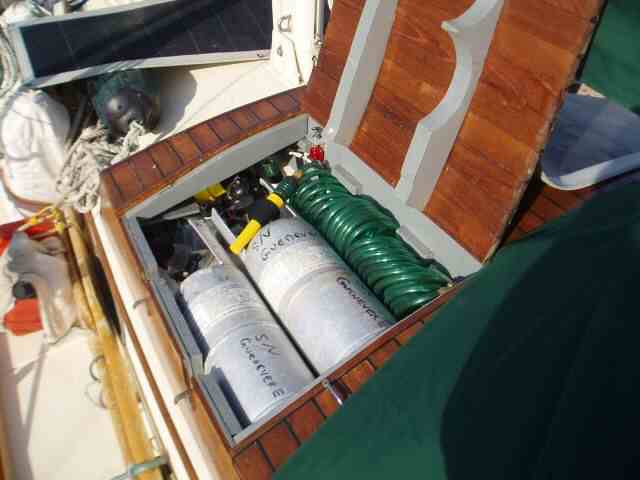 Just as last year, it is standing up well to all the stuff we have put in and on it. No problems at all. It is NICE to have the deck wash down pump up there and I use it a LOT when cleaning the seafood in the cockpit. The speakers work GREAT for evening cockpit sundowners. And they also work wonderful for movie watching. We put the computer on a sink board on the partially closed main hatch top, pop a DVD into it and run an audio wire from it to the radio and we have our very own outdoor theater!
Raymarine Tridata depth/speed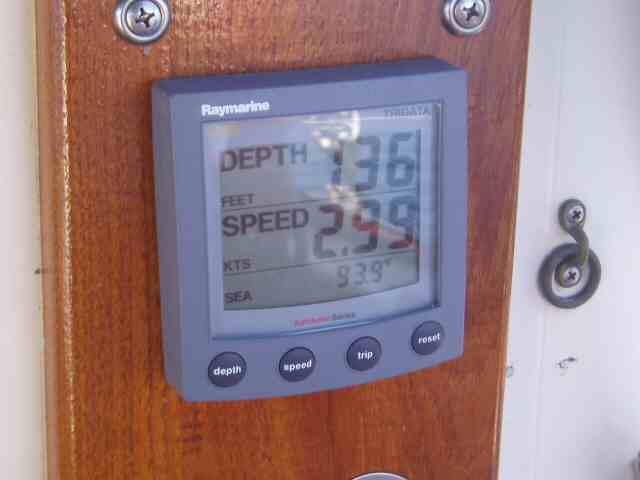 Last year I said - "What can I say, This was $$ down the tubes. As far as the speed indicator goes, it never did a good job. We installed it just as we were about to head out. I ran the measured mile on the Oakland estuary 4 times (as called for in the instructions) to calibrate the unit. By the time we got to Half Moon Bay I was unsure of it and was positive it was no longer accurate by the time we got to Monterey Bay. Even after adjusting for currents. Off of Santa Barbara, it just quit reading any movement. I keep taking it out and cleaning it, but it's not worth the effort. I now stick to the GPS for speed."
We still have this on board, only because I am to lazy to remove it and fashion a new board. And, we do still use the depth sounder. When I can, my plan is to remove it and put in 2 depth sounders (different frequencies). That way, if one quits, we will have a backup. A couple of times I have wished for two depth sounders.
Standard Horizon Chart plotter/GPS (model GPS Chart 150C)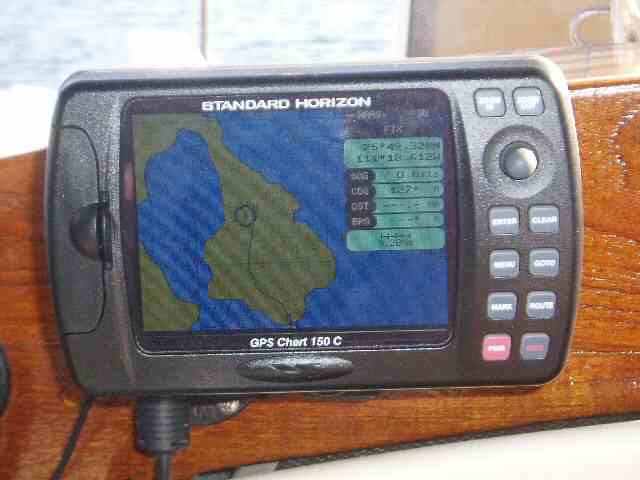 It is STILL working so good it makes me lazy. We still have it "on" anytime the boat is going to move. I am using it to plan the next one or two legs of any and all trips, to compute the distance, time and fuel. We are also using it as our official trip distance log (see Tridata info above). The one thing that you need to watch for is that the C-MAP charts you use in it are made from the official U.S. paper charts. SO, At times here in the Sea of Cortez and on Cedros Island, it shows us well aground! I checked here a few days ago and the charts may be off by as much as 0.87 miles. At first I thought it was a problem with the C-MAP chart. Then we helped in a "MAY DAY" rescue that was coordinated with a HAM net, the U.S. Coast Guard and the Mexican Navy. I came to find out that the U.S. charts are way off! The Coast Guard and the Mexican Navy coordinate to find the real position when needed. So, we mostly use it to get us close, then go to good old "eye ball" navigation. During the last two years I have talked to a number of other cruisers here in the Sea of Cortez, and they are ALL having the same problems from ALL of the systems in use.
JRC Radar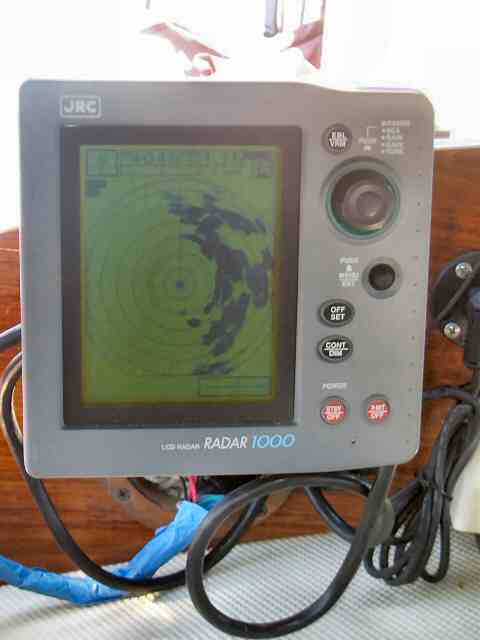 This year we have only turned it on for about 2 hours. And that was just to make sure it was still working. It is normally so clear here that it's not required. I did use it during a storm just to make sure our anchor was not dragging. I could keep a watch on our distance to shore.
Yeoman Chart plotter with GPS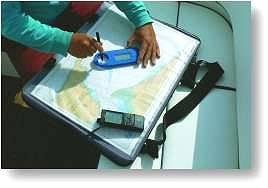 This did us GREAT service down the coast and gave us a very good since of security by having all of our hourly positions plotted on a good old paper chart. Since we have been in the Sea of Cortez, and our trips have all been during the day and in clear weather, within sight of land, we have not used it this year. But we like it enough that is still has a place aboard!
Autohelm 1000 autopilot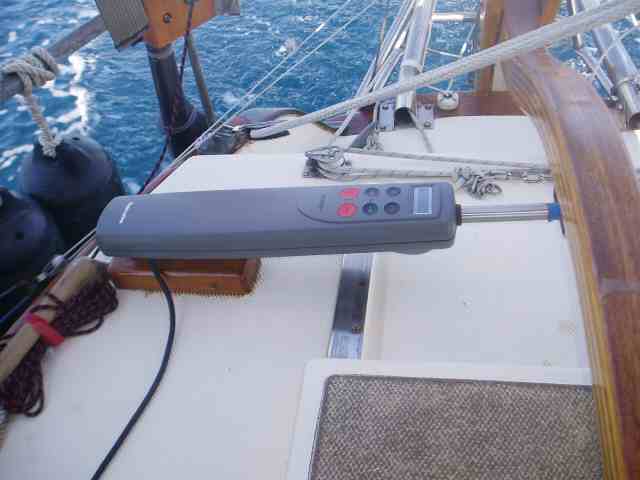 This year it has worked very well with no problems at all. We only use it when the engine is running so we do not worry about the power it uses.
Monitor wind vane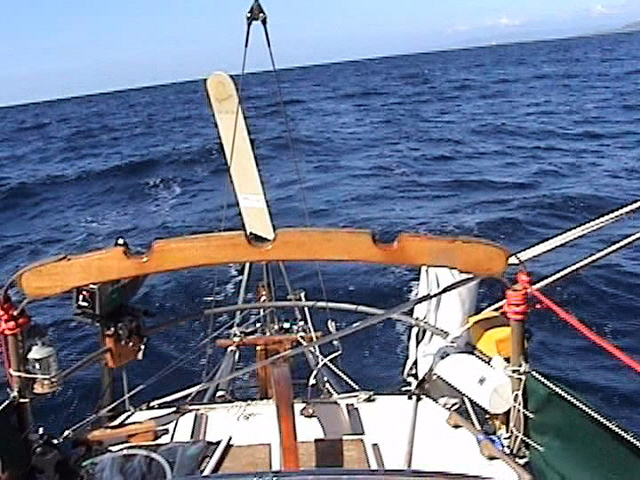 This year, STILL can't live without it!
Unisolar flexible solar panels (4 each)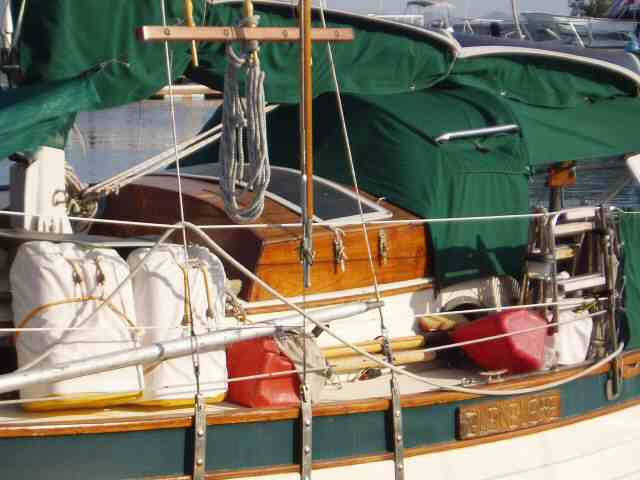 Last year I said that each panel is rated at 1.94 Amp. They work well and are easy to put out once we reach anchor. They roll up nicely and stow in the aft cabin when not in use. If it were not for the freezer, they would be way more then enough to power the boat all the time. BUT, when I get the chance, I am going to get more solar panels. Here in the Sea we do not get enough wind to make a wind generator useful. My plan is to get panels with sufficient output to run the water maker during the sunniest two hours of the day. That should more than cover all of our needs. I plan to make it so that I can add, or remove panels as required. They also store quickly for bad weather preparation.
That STILL holds true! I ordered 5 solar panels last October, from three sources. I informed them that I needed the panels before 15 January 2006 as I was driving back to Mexico and needed to bring them with me. NOT ONE source came through! However, I did contact a new source and now have the panels I wanted.
PLEASE read my commentary at the end of this report regarding power and water.
Sun Covers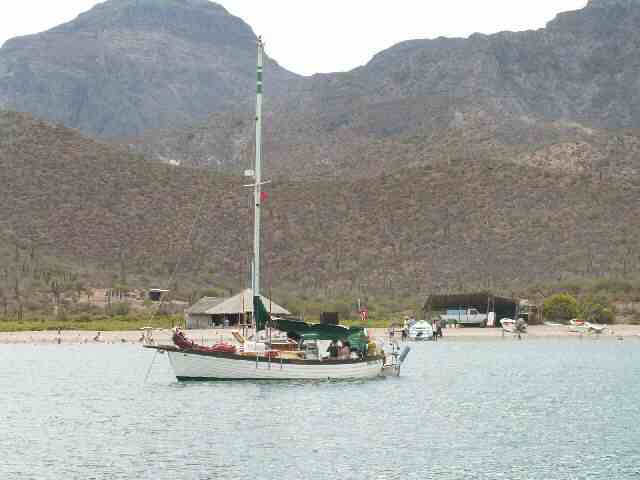 Here in the Sea of Cortez they ARE A MUST! You can NOT live without them. We had our canvas guy make us a cover that goes from our dodger to the boom gallows and can stay on when we are sailing. WE LOVE IT.
We now have a ShadeTree sun cover. It goes up easy, as far as covers go. It is strong and we are able to "reef" it easily at night. We reef it every night in case of a Chabasco (sudden storm). It cools the boat off by at least 5 degrees! At least it feels that way. During this summer, the inside temp of Guenevere never got above 97 Degrees F. We visited other boats that had a cabin temp as high as 107 Degrees F.
Porta-Bote
dink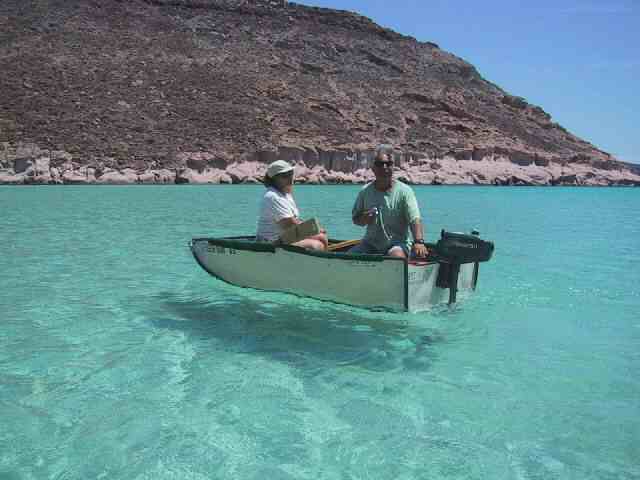 Our 8 foot Porta-Bote is still working good after 12 years! We bought a set of the new plastic seats in 2003. They are a LOT lighter than the old wood ones and we were very happy with them. BUT, after only one year, due to the heat, the plastic seats are breaking. The middle support that keeps the boat bottom ridged, and is hinged in the center bottom of the seat has pushed it's way up into the foam center of the seat. This slows the dink down when motoring as the bottom does not stay as ridged as it should. I tried to fix them when we were back at a dock. It did not work well.
Here is what the OLD seat bottom supports look like.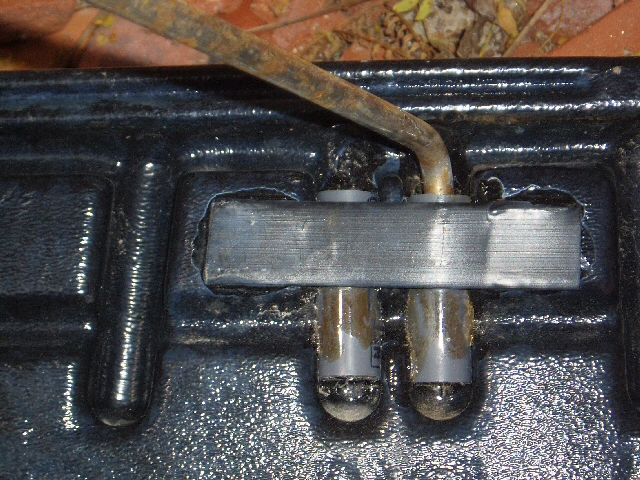 This shows how the metal seat/bottom support hinges on the underside of the seat. This is a good, unbroken support.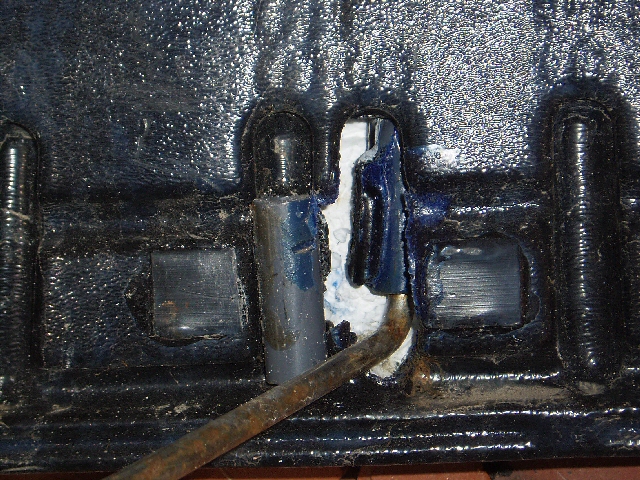 This photo shows the failure mode. You can see how the metal support has broken through the bottom of the seat and is working it's way through the white Styrofoam. Once the Styrofoam breaks away, the seat can drop about 1.5 inches and the bottom is no longer ridged..
I do NOT have any photos of the new support system yet.
When I can, I will post them.
At one anchorage we visited, there were 5 boats, all with Porta-Bote dinks! AND, we all had the same problem with the seats. When we got back to La Paz, I managed to call the Porta-Bote company. I was informed that they had redesigned the support. They were very willing to supply a new set of supports that could be retrofit to the old seats. I was informed that they wanted happy users! I do not have the parts in hand yet. But will report back.
We have now talked to a lot of boats using Porta-Bote for every day dinks. When used like this, they get a LOT of usage. We have to say that we think they are a great dink for use in the Sea of Cortez. The beaches here can be smooth sand or rocky. It's nice to not have to worry about just running it up on the beach. When other boaters stop off the beach and wade in, we can just run up and step off.
We have heard that some people have had problems on the mainland, trying to get to the beach through any sizable surf. We know of at least one that was upturned heading through the surf. But then, we have also heard of a number of inflatables doing the same. We have also heard from other Porta-Bote owners that had no problems going through surf. We do notice that the bow of the Porta-Bote tends to be a bit low and can scoop water if it drops.
Other than that, I get about 8 Knots of speed out of the 3.5 HP motor when it's on its' plane.
TOHATSU Outboard motor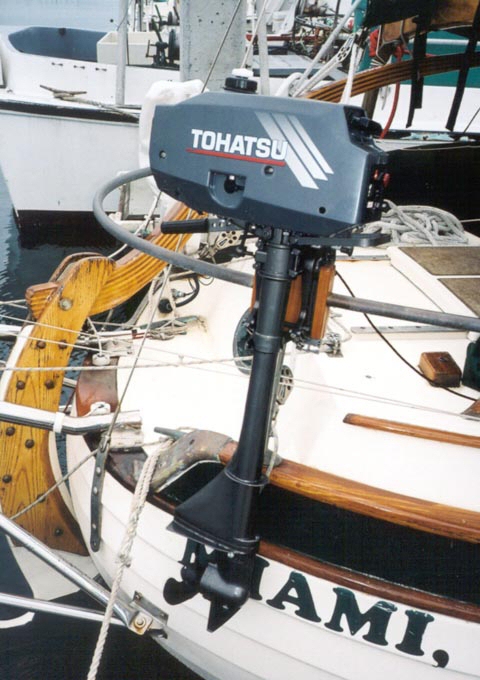 We have been using a small 3.5 horse power, two stroke, Tohatsu outboard motor. We decided to go with this motor for a number of reasons. The first was, it is light weight. I can pick it up with one hand. That means not a lot of stress on the aft rail. The second was because it is a two cycle, I can empty out the fuel, roll it in a tarp, and store it out of the elements for an offshore passage. You can not do that with a 4 cycle engine. And the third is that it is simple to work on! Most anyplace in the world, you can get a two cycle engine fixed, no so for a 4 cycle. It will put our PortaBoat on a plane if just one of us are in it. It will not plane with both of us or any big load.
The down side, it's not nearly as fast as a bigger motor. But then, we are cruising and at times must remind our selfs that speed is not all that vital. But it might be fun Grin...
LED Spreader lights

We changed out the normal spreader bulbs for these LED cluster lights. They each have 36 LEDs in them. There is more then enough light to use on the decks! Before I put them in, I used the Link 10 to measure the amount of power the old lights used. The old bulbs (2 each) used 3.3 Ah. These new LED clusters use 0.3 Ah! We used them often in the sea. I got them from Superbright (http://www.superbrightleds.com/) at a very reasonable cost.
Two Hella cabin fans (one over each berth)
Without these, we could NOT have spent the summer here in the Sea of Cortez! For the past month, they have run mostly 24/7 when we are on the boat! Both fans have now had some problems. On one, the fan blade has come loose. I replaced it with a blade from another fan we had aboard and it's still working, but the safety cover will not fit back on. The other has been slow to spin up and at times makes a screaming sound. I think they had done GREAT duty for the amount we asked of them. Our plan is to purchase two more just like them and also a couple of "clamp-on" to use around the boat. In the Sea of Cortez, during the summer, you can not have to many fans!
Icom 706 Mk IIG & Yeasu external speaker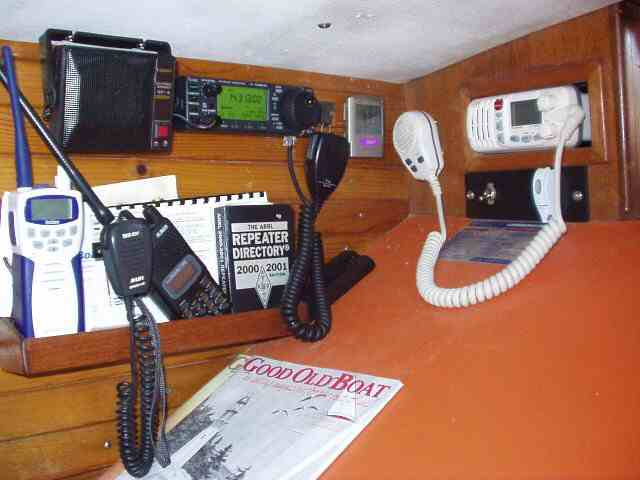 The Icom is a life saver! We use it EVERY day. The net's provide great info on everything from weather to where other boats we know are to what the next anchorage is like. The external Yeasu speaker was a waste of $. Not worth it and we no longer use it at all. On a visit to another boat, we saw an SGC ADSP2 external speaker. This speaker has a number of filters built in to it to make hearing a voice much better. On the other boat I could hear the difference! So, I have ordered one and will let you know on the next report how it is working.
Pactor Modem


WOW! This is magic! It has been working well and we are getting and sending email almost every day! We get speeds of around 1400 to 3600 Baud. We have the Pactor 600 with the Pactor III software upgrade. Unless you are running 2 separate radios, you do NOT need the Pactor Pro! (write me if you have questions) We are using it with an Averatec 3150 computer. The computer does not use a lot of power and will also play our DVDs. I have this set up so I plug 1 (one) USB cable into our computer and it controls the radio tuning AND the modem. This year I had one problem and it may have been from heat buildup or a loose/corroded connection. I shut everything down and removed and replaced all connections and have not had the problem since.
Norcold Freezer (Built in)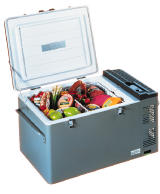 It is working good, BUT, it sure does use the power. In the US, it was running about 50% of the time to keep itself at the temp we set. We
could keep ice cream hard! Down here in the heat, we decided that cold drinks were more important than keeping things frozen, so now we are asking it to keep a temp of about 36 to 39 degrees F, and at the same time cycling in and out from 4 to 8 quarts of water. Keep in mind that the water is about 90 to 98 degrees when we put it in. So, you can see why it's using more power than I thought it was going to use.
PLEASE read my commentary at the end of this report regarding power and water.
Force 10 Galley range (European 2 burner model with oven) and
Trident gas controller with alarm.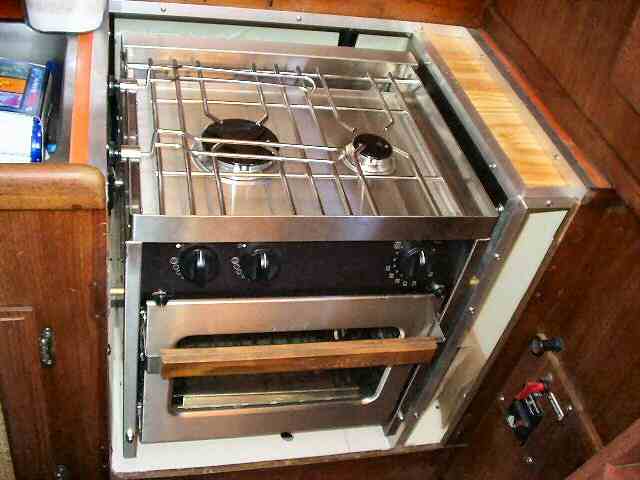 We got the pazieo starter battery holder fixed (it was shorting itself out). It's been working great. Jill has made some GREAT bread and
other tasty treats in the oven and the top has been a workhorse. We have found the Trident gas warning to be a pain! It is very SENSITIVE! We cannot use spray Pam (or any other aerosol spray) inside the boat without it shutting down the gas and ringing the alarm! But, we feel it is worth the effort to keep it. We have been told by other boaters that it eventually becomes less sensitive to extraneous things. This year we are getting fewer alarms than last year.
Battery compartment (at bottom of companion way ladder, with 2 additional Group 31 batteries)

If we had not added the extra batteries, and still had the Norcold, we would have had to run the engine every day for at least an hour! For
us, 3 batteries of at least 100 Amp hours each is a minimum! All of our batteries are Group 31 AGM type, and so far, we are very happy with them. We never let them get below 50 % discharged (50% DOD). So I expect them to last. It sure is nice to not have to service battery water in our SMALL engine compartment!
We decided on AGM because our plans were for long distance off shore cruising in remote areas. I know we can get wet cells almost anyplace in the world. That may not be the case with gel. If we have one battery go bad, in a pinch, we can stuff in a wet cell with no problems as the AGM and wet cells take the same charging voltage. NOT SO with gel batteries.
New Yanmar 2GM20F engine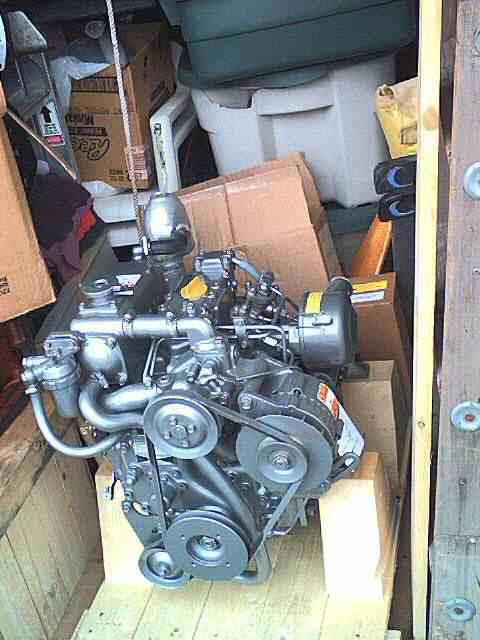 Once we fixed the problem of water back flowing into the exhaust system by adding a Vitus valve. It seems to be working well. I check the
alignment often and all is doing well now.
DriveSaver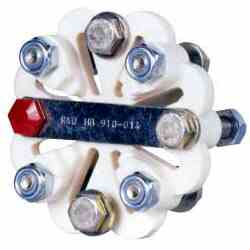 This is a great piece of gear. I picked it up at a boat show just in case I had a problem with the Yanmar flex coupling. During the engine repair, I installed it. It has a GREAT feature that allows you to do a shaft alignment without decoupling the drive train! This saves a LOT of time and energy. It also allows me to check alignment often so I have a heads up if ANYTHING is moving about. I did have an engine mount bolt loosen up during a passage last year. We swung in, dropped anchor in a nice spot, and had the bolt tight and an alignment done in about an hour or so of work! During our trip to the USA early this year, I bought a spare!
Balmar high output alternator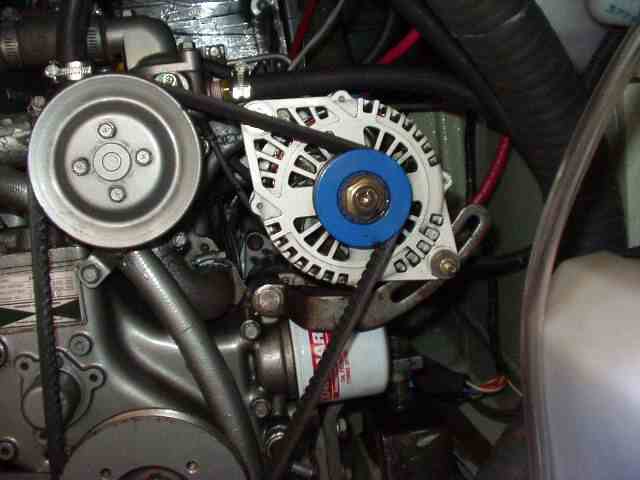 Works GREAT, but have had to take off the temp sensors from the battery and alternator. The manufacturer sent me a new alternator temp sensor for free, but even with the new one, due to the high ambient temp (I think) it was cutting the power way back. Great customer service. The same thing happened this year. I had to disconnect the temp sensors so I could charge the batteries. I have added a small inside/outside temp sensor in the engine compartment to let me know how hot I am running. During the summer, I need to run with the forward engine door off, and the aft cabin door opened to vent. AND, I run a fan to force air through the compartment. I think Balmar said it is designed to cut back at 225 Degrees F. When the outside temp is over 100 and the sea water is over 95, the temp in the engine room jumps up very quick.
Little Wonder 250 water maker.

With the amount of water we have in the two tanks (40 Gal total) we LOVE this magic device! It gives us a big boat feel. We take freshwater showers, wash our clothes in fresh water and wash dishes in fresh water and do not worry about running out of drinking water. In this heat, we are going through 4 to 8 quarts of fresh water per day for just drinking! It is mounted in the port aft cabin berth.
PLEASE read my commentary at the end of this report regarding power and water.
Newcon Gen 1 night scope.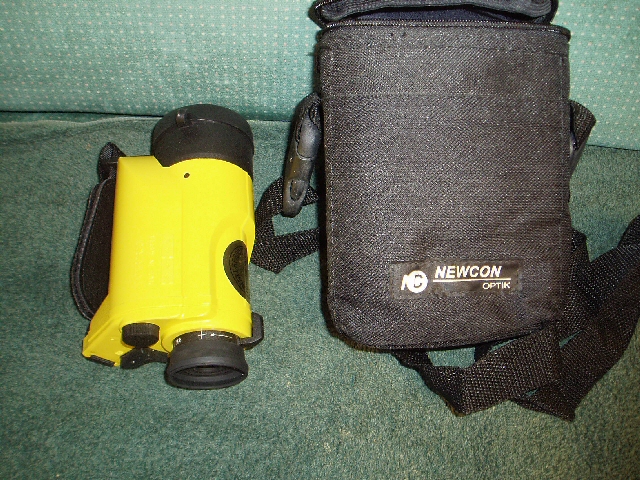 Don't waste your $. Just no use, at all.
Link-10 energy monitor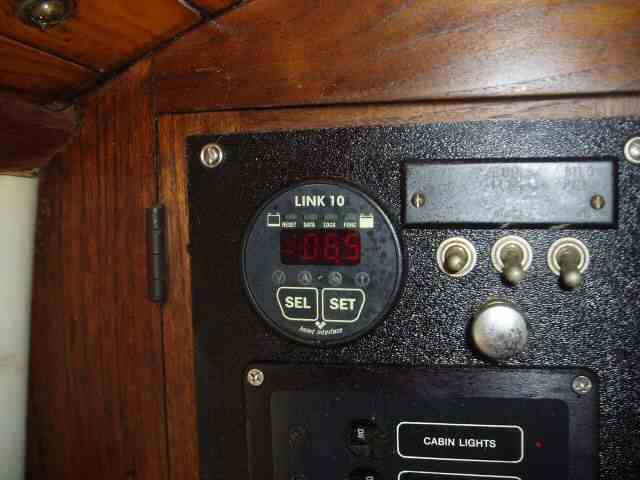 This is one of the GREAT magic items we put on board! Before we got this, I would go behind Jill and turn off the lights to conserve power. I never knew exactly how much we had, or had left. I was driving Jill crazy. NOW, all I have to do it take a look at it and we know our status! The BIG bonus is that you can make sure you do not over use your batteries! That is, do not use them beyond 50% discharge. This greatly extends there life and SAVES a LOT of $$$$$.
Coffee Press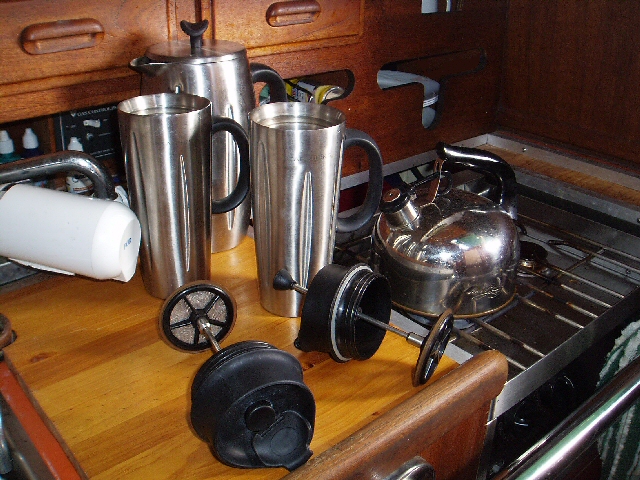 We have tried a number of different coffee makers. We first tried a Melita drip pot, but were afraid we would break the glass, and what to do when we run out of filters. We tried a plastic coffee press from West Marine, but the coffee was cold almost before we could drink it.
We have now found THE ANSWER! We were given two, one cup stainless steel, thermal mug, coffee presses and a small stainless steel thermal coffee press.
THEY WORK GREAT! Finally we found a coffee maker that works for both of us, and guests! Best of all, I get coffee like I like it and Jill gets it as strong as she likes it, and all out of the same pot of hot water.
They came from Star Bucks.
Tops-In-Quality ladder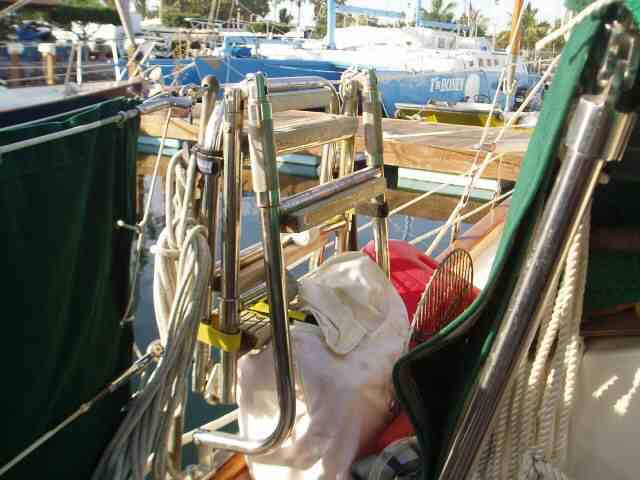 Has been working GREAT! At first we did not think we would be using it. But once we started to anchor out, and swim directly off of the boat, the value was evident! We just slide it back to the cockpit and we are set. We found that the more we use it, the easier it is to slide back and forth.
LaVac head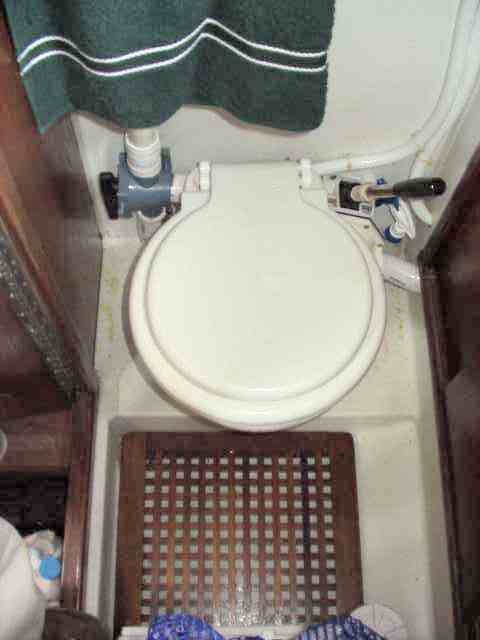 Absolutely the BEST head we have ever had aboard a boat! The seals on the lids keep all the bad smells at 0! As long as it's mounted per the directions, it almost pumps dry. We have set it up so that the same pump will work for the head AND the holding tank (for offshore work), and a deck pumpout. This year one of the seals has started to tear. But it is STILL working GREAT, even with the broken seal. We have a spares kit and I will order a new seal as soon as I get the chance.



CDI Feathering prop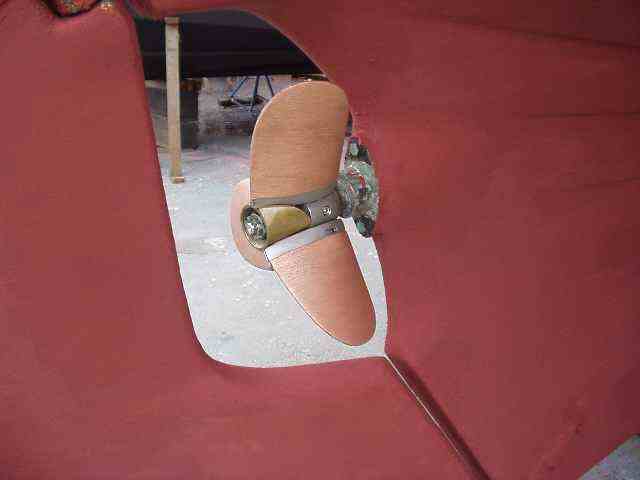 It seems to be working very well. I coated the blades with the same CopperPoxy bottom paint (as you can see here) and it's holding up very well! We will keep you informed if we have any problems. During the next haul out, I may increase the pitch by 1/2 inch or so.
Speaking of CopperPoxy.
In late September and early October, 1996, we sanded ALL of the old bottom paint from Guenevere. On 6 and 7 October, 1996, we coated the bottom as directed in the instructions that were provided with the CopperPoxy.
It's official, the CopperPoxy bottom has stopped working. I am now finding hard growth all over the bottom. When we bought it, the product said it would last about 10 years. I guess they had it correct.
During the last month or so in the Sea I needed to clean the bottom about once every other week. It may be the water, another boat with a fresh bottom (3 months old) was also having hard growth.
This year, the RAM mic crapped out! I had a problem with troubleshooting it down to the radio, the mic, or the cable. So when we were in the US, we bought an identical replacement for all the parts. It turns out it was the RAM mike itself. I am unhappy with that. I think it should have lasted more than one year! The cord also darkened up over the year. It says it is for use in the cockpit, but once again, I think it is aimed at weekend use only! I am not sure what I would use if I changed, it's very nice to have the full ships radio in the cockpit! All summer we were talking to other boats trying to use handhelds in the cockpit and they were ALL having problems! Batteries dying and low power output makes relaying on a handheld less than optimum.
We put the information that follows together during our most recent few months in the Sea of Cortez. Please note that IT IS HOT in the Sea of Cortez and that what follows is our thought only.
Asking a manufacturer what the output of his unit is only gives you a number to compare units. DO NOT think that you will actually get the amount stated in the advertising. The actual "usable" amount of water (product) you get from a unit depends on a lot of different factors!
First, the temperature of the intake water makes a big difference. Hotter (up to a point), gets more product water, cooler gets less.
The salinity (amount of salt) in the water makes a difference. More salt, less product.
How long after startup does it take to start getting good product water? 5 min or more?
How often do you need to back flush the unit, how much water is required? If the unit needs to be back flushed every time it is used, and it takes 2 gallons, you need to subtract 2 gallons from the total product water made, EACH TIME!
How often do you "NEED" to run the unit? Some units MUST be run at least once every 3 or 4 days. If not run, you need to back flush it, or preserve (pickle) it.
Over time, the unit will start to produce less product water due to normal usage of the filter element.
One other thing you need to think about is if you plan to just let the water maker run without you being present. I don't think that is a good idea, but some people do. When we make water, it goes into a separate tank and I sample it (taste test) BEFORE it goes into our main tanks.
Having said all of the above, we seem to be getting about 70% to 75% of the "rated" product output.
How much water do you need to make? For us, that amount is about 28 gallons every 4 days. That is, we need per person, 1 gallon to drink, ½ gallon for cooking, and 2 gallons for washing. That is 7 gallons per day and we try to make water every 3 to 4 days.
In the heat of the Sea of Cortez, 1 gallon a day to drink is the minimum! And washing off after a day of swimming may not be critical every day, but after a few days, YOU NEED IT! This year, there was a drought on the Baja and a lot of the animals were dying due to lack of water. So water was hard to come by. We felt that a water maker was a necessity.
Of the other boats we met and talked to, only one had a working "parts per million tester". A lot of boats bought them, but all now just taste the water. We did not talk to any boat that was satisfied with a low output water maker. It is AMAZING to watch the fresh water flow out of the product water hose. You look at it and ask yourself, "is that all it's making? is it working correctly?" This does not apply to emergency units!
Make sure you have it working BEFORE you depart on your cruise! Getting it worked on once you are away from your home waters is HARD TO DO!
Now on to how much does it cost? Not to purchase, but how much power does it take to operate.
By now, you know all of the systems we have aboard Guenevere. So you know we need a bit of power.
The first year we were in the Sea of Cortez, we had 4 each 32-Watt Unisolar flexible Solar panels. During the heat of September, this was WAY LOW! We had to start the engine every day or two.
The major draw of power is the refrigerator. It draws 4 Amps per hour of usage. We have super insulation, and if we did not open the box, the solar panels worked just fine. But, the real draw was the 2 gallons a day (or more) of water that we cycled into and out of the unit.
During a number of talks with other cruiser at beach bonfires, most boats were down by 50 to 70 Amps each morning. We were right in there with the others, just a bit higher than the lower numbers.
You may think that this is not a problem, but let me tell you how unhappy you can get sitting in the boat running the HOT engine on a VERY HOT day! It was also getting so hot that the temp sensors on the alternator and battery would lower, or cut off, the alternator output! That would require us to shut down, wait a few hours and start over! A BIG PAIN!! Not even talking about how BAD it is to use your main engine to just charge the batteries!!!!!
During the summer here in the sea, we have almost no wind a LOT of the time. Not one cruiser we talked to was happy with their wind generator. We talked to about 6 or 8 boats about their units.
Our solution - MORE SOLAR POWER.
We have come up with the figure we think we will put on board. See if this helps you.
We know that our water maker uses about 14 to 18 Amps to run. Our refrigerator uses 4 Amps. So we plan to have about 20 to 25 Amps in solar panel generation capability. That will be 1 each 85-Watt panel on the stern rail aft of the back stay and forward of the Monitor wind vane. The current 4 Unisolar panels. Plus 4 more ridged panels mounted (removable) from our pin rails. This will allow us to add and remove panels as required.
The logic is that at anchor, once every 3 or 4 days, we can fly all panels and during the four sunniest hours, make water, run the refrigerator and still be able to trickle charge the batteries. On the other days, we should be able to charge the batteries full by noon. Also, on an overcast day, we should still be able to fully charge the batteries.