First Application - March 13 2013
This will be an on-going journal of how the product works for us.
We used CopperPoxy many years ago and got great protection from that for 11 years from the San Francisco area, down the west coast and through the Sea of Cortez. We later tried to use copper powder in standard epoxy. That DID NOT work at ALL!
After being on the hard for a long time we needed a new bottom coating and have decided to try the COPPERCOAT. It is also a metallic copper based product that is carried by a water based epoxy. It is advertised to last 10 years.
In early February I contacted a number of yards in the San Francisco area and asked for quotes to apply the Coppercoat. We decided that the quote from the Napa Valley Marina was good and it would be a fun place to be on the hard.
On March 13 2013 they moved our boat into a covered shed to apply the Coppercoat bottom coating. The application process is a bit more stringent than other bottom paints.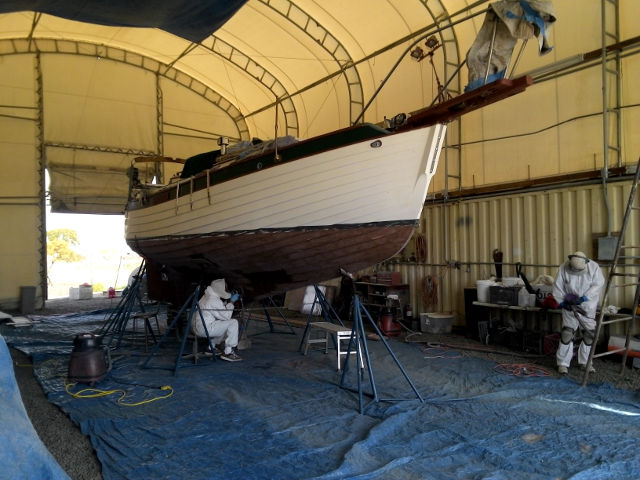 I have to say that we were VERY impressed with the application by Napa Valley Marina! They took their time, contacted the manufacturer for more information on details of the application and were happy to have us around during all of the work. I am stating that the product was very strictly applied according to the directions, in every way.
Please see our application video at; Coppercoat application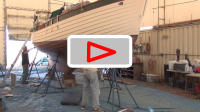 Or copy the below link into your browser
http://www.youtube.com/watch?v=1EqOBTNNhVc&feature=share&list=TLBRZHHEf-U5s
Our contacts;
COPPERCOAT USA, Jim Edwards – www.coppercoatusa.com
Napa Valley Marina, - www.napavalleymarina.com
On March 26, 2013 we splashed the boat.
On April 11, we talked to Jim Edwards at the Strictly Sail boat show in Oakland. I asked what was required if we had our boat hauled out for extended time. I specifically asked about something like a 6 month in the water and 6 months out type of usage. He stated that it would be good to pressure wash the bottom both on haul out, and just before splashing. So that is how we plan to handle it.